"These are just awesome. I have to bar the kids from the kitchen when I'm making these or there is none left for the table. My Mother had just made some plum butter and brought it over so I had to make them. My grandmother used to make them for us when I was growing up. They can be a dessert or in eastern Europe it is often the main dish. The dough makes great gnocci too."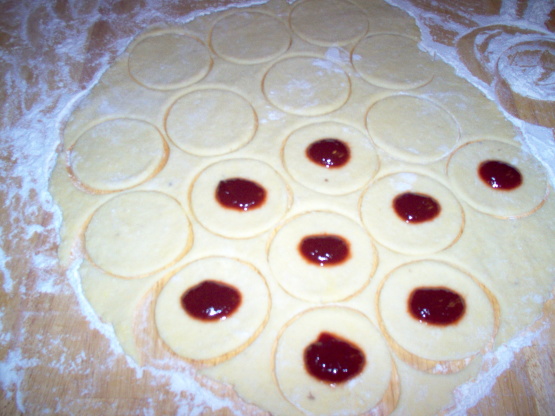 Plum Butter Dumplings (Powidtascherln)
3 recipe photos
Directions
In a sauce pan cook potatoes with skin on until fork tender.
When cool enough to touch peel the potato.
Rice or finely grate into a bowl.
Add the flour, egg plus one yolk and a pinch of salt.
Knead into a dough.
Working on a WELL floured work surface roll the dough out fairly thin (the dough does get a bit sticky when rolling so make sure you have enough flour underneath, you can always shake off any access).
Use a 3-inch round cookie cutter and cut circles.
In the middle of each circle place a 1/2 teaspoon of plum butter (not too much because is may leak out the sides).
In a small bowl beat the egg white to make an egg wash.
Brush a little of the egg was around the edge of each dumpling.
Fold each dumpling in half, and press edges together with fingers to make sure it is sealed (I always keep a small bowl of flour beside me when pinching to dip my fingers when it gets too sticky).
In a large pot of boiling water add 10 - 12 dumplings at a time and cook for about 5 minutes.
Remove dumplings with a slotted spoon into bowl of ice water (just to shock them it prevents sticking) then to a colander or somewhere where all the water can drip off.
In a pan melt butter and oil add the dumpling a few at a time to ever so slightly brown.
Pockets can be sprinkled with cinnamon and sugar or icing sugar.
I mix sugar and cinnamon and sprinkle it on with my fingers then pour a little whipping cream (about 1 tbsp for 4).