"Poached eggs New Orleans is poached eggs served with a lovely Choron Sauce. Choron sauce is basically a Béarnaise sauce (or sometimes Hollandaise is used) with a tomato puree added. It was created by Alexander Etienne Choron, a French chef from Caen who was chef de cuisine at the famous Voisin restaurant in Paris during the late 19th century. To clarify butter, see
Clarified Butter (How to Clarify Butter)
"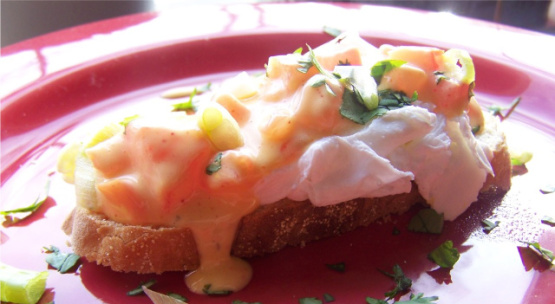 Poached Eggs New Orleans
5 recipe photos
READY IN:

30mins

SERVES:

4

UNITS:

US
Directions
CHORON SAUCE: In a heatproof bowl whisk egg yolks with 1 tablespoon of the lemon juice until thick and pale. Set bowl over a pan of barely simmering water, stirring constantly, until warm but not hot.
Stir in butter, a few tablespoons at a time, until all butter is incorporated. Cook, stirring, until sauce thickens enough to lightly coat back of a spoon.
Remove from heat and stir in remaining lemon juice, Tabasco, salt, pepper and cayenne, to taste. Fold in tomatoes. Makes About 2 cups.
POACHING EGGS: In a shallow saucepan or skillet bring 2 inches cold water and vinegar to a boil over medium heat. Reduce heat until water simmers gently.
Break eggs, one at a time, into a ramekin or coffee cup; holding ramekin as close as possible to water, gently slip egg into water. Poach eggs 3 minutes for very soft-cooked, 5 minutes for medium-soft.
Using a slotted spoon, scoop out eggs and place onto toast (which is on warmed plates). If necessary, gently pat eggs dry with paper towels.
Season with salt and pepper. Spoon several spoonfuls Choron sauce over eggs and decorate with parsley and green onions.