"This recipe came from the packaging on the popover pan I bought from Williams Sonoma. I've tried a few other recipes on this site that call for starting with a cold oven, but this one turned out much better. This is half the recipe on the package, so it makes one 6 cup pan worth. Unfortunately I cannot provide guidance on how to convert this recipe to a muffin pan, hopefully others may post notes."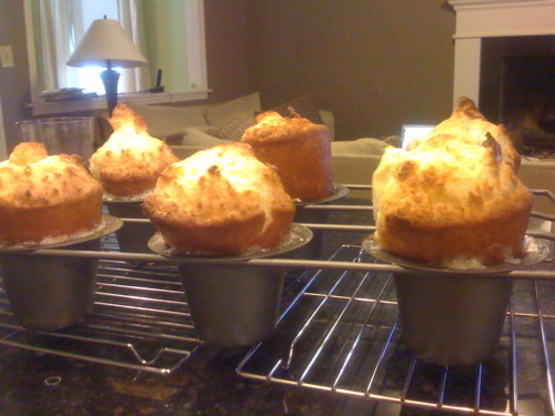 Popover Pan Popover Recipe
1 recipe photo
Directions
Preheat oven to 450 degrees.
Spray the cups of a 6-cup popover pan with non-stick cooking spray.
Pour 1/2 teaspoon of the melted butter into each cup.
In a bowl, whisk together the eggs and the milk, then whisk in the remaining 1 Tbs. of butter.
In a large bowl, whisk together the flour and salt, then whisk in the egg mixture. Whisk vigorously until smooth, about 2 minutes.
Divide the batter among the 6 cups and bake for 20 minutes.
Reduce heat to 325 and bake for 15 minutes more.
Remove from oven, they should easily come out of the pan (thanks to butter in bottom), put them on a wire rack to cool.
Serve plain (my fave), or with butter or jam for breakfast, or with roast beef and au jus.