"Enjoyed at Christmas and Easter. I make this for friends and family to take home on Easter. Some likes lots of poppy seed filling and others request a little. It's hard to please everyone with one roll so I make a bunch. Depending on how dry your flour is you may need more or less water. You can make the dough the day before let raise one hour punch down then refrigerate over night. Then bring to room temp. Let rise 1 hour. Posted pictures on March,05 Alternate way to make dough in the food processor is the 1st picture, 2 is kneading in processor with eggs and wet ingredients, 3rd is the proof, 4th is 3 batches of dough one as recipe calls for,one is with 1 cup of rye and the third is with one cup of wheat flour(which made a drier dough). 5th picture dough rolled out with filling on it. 6th is rolling up. 7th Placed in loaf pans. 8th is egg washed and topped with dry poppy seeds. 9th baked. EASTER 2006-made dough in Bread Machine and it came out beautiful. The rest is really nice in the draft free and temp controlled machine."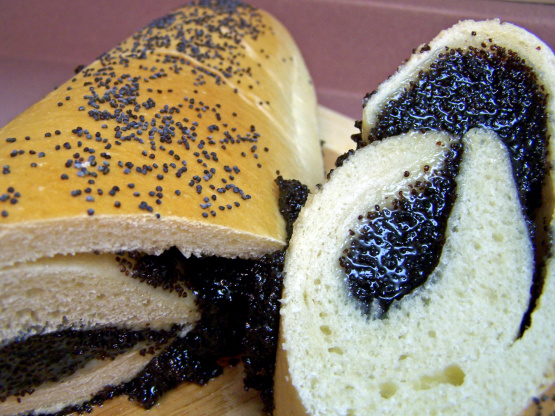 Poppy Seed Roll (Makowiec) & Bread Machine Method
13 recipe photos
Directions
Scald milk and stir in sugar, salt and shortening or butter.
Cool to lukewarm.
Dissolve yeast in warm water.
Stir until dissolved, then stir into the lukewarm milk mixture.
Add beaten eggs and 3 cups flour.
Beat until smooth and stir in an additional 2 cups flour.
Turn dough out onto lightly floured board and knead until smooth and elastic.
Place in a greased bowl and brush top with vegetable oil.
Cover and let rise in a warm place, free from draft, until double in bulk (about 1 hour).
Punch down and turn out onto lightly floured board.
Cut into 2 rounds or 4 to make smaller loafs.
Roll out one dough into a rectangle about 12x9.
Spread 1 can of filling within 1 inch of sides.
Roll up long side into a roll.
Pinch seams tight so no filling escapes. You can use egg slightly beaten to seal. I always have poppy seed escape.
A Hint if you want it to keep the shape of the roll place it in parchment paper securing the seams of the parchment and make sure the seam of the dough is down. I prefer to bake in loaf pans as you see in the pictures I posted here.
Place on pan and let rise 1 hour until doubled.
Bake in a preheated oven at 425°F for 30 minutes.
Until nicely browned.
Remove parchment if using and let cool.
You can top with a powdered sugar glaze or slice and spread some sweet butter on it.
Alternative Bread machine Method:.
Place the eggs, room temperature buttermilk, and 1/2 water in first unless your machine has wet last then reverse. Cover with 2 cups flour add butter and salt top with the rest of the flour and sugar. Make a small indent in the flour and place yeast in (Using 2 1/2 teaspoons Rapid Rise Active yeast for bread machines).
Set on dough cycle and let process for a bit if it needs more water slowly add. Then follow with rolling and filling as above. I found that the last rising was 15 minutes with this method!