"This is my dad's fried egg sandwich "recipe". He used to make these for us (all 4 kids and my mom) on Sunday nights after church. I recently introduced my DH to these sandwiches and he has declared them "The BEST" sandwich on earth. ;) *Note, you can use whatever type of lunch meat you have on hand, or bacon, or sausage, etc. It's a personal preference kind of thing.* These directions are for 1 sandwich. You can, of course, increase the number as needed. I hope you love these as much as we do. I lovingly refer to these as a heart attack on bread. Definitely not for those watching their cholesterol and calories."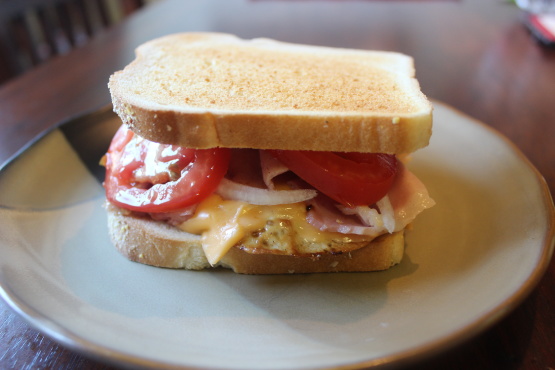 Pop's Texas Fried Egg Sandwich
4 recipe photos
1 -2

egg

1 -2

tablespoon butter

1

slice cheese (I use Kraft singles because they melt well)

2

slices bread (toasted)

salt and pepper

onion, sliced
tomatoes, sliced

1 -2

slice ham (or whatever lunch meat you prefer)
Directions
In a skillet melt the butter over medium heat.
Crack the egg(s) and add to the pan and cook to desired doneness. I usually break the yolk and flip it over so it isn't too runny.
Toast the bread and put mayonnaise or Miracle Whip on the bread.
Add salt and pepper to taste on the egg and the tomato slices.
Add egg onto toast.
Add cheese slice onto egg while the egg is still hot.
After you remove the egg from the pan, put the meat into the pan to heat it up / pan fry it to your liking. I keep mine in the skillet until it's just a smidge brown. I do fry it on both sides.
After the meat is done, put it on top of the cheese.
Add slice of onion.
Add slice of tomato.
Put the other piece of bread on top.
Serve warm.
Grab a napkin, because these are MESSY!