"This is a long time family favorite in my house and is one of our 'comfort' foods. I make this with fresh [raw] sausage from Burton Sausage Co in Burton, TX. If you ever go through the town it is a must stop- Awesome jerky and dry sausage- sausage dried like jerky but not as tough) I got this recipe from a cajun neighbor/friend of mine. Always a 'go to ' when pressed for time or don't feel like cooking! Fits many regional cuisine categories because of it's basic ingredients of sausage, potatoes and onion are staples in many countries across Europe, North America and beyond. Sausage has long been popular in the SW. Maybe it started in covered wagon days and early cowboy days bc it was easy to carry and store??? I have never really measured the items in this recipe- When asked how much? I always say 'enough'. After many requests I decided to try to get it down on paper! So here goes!"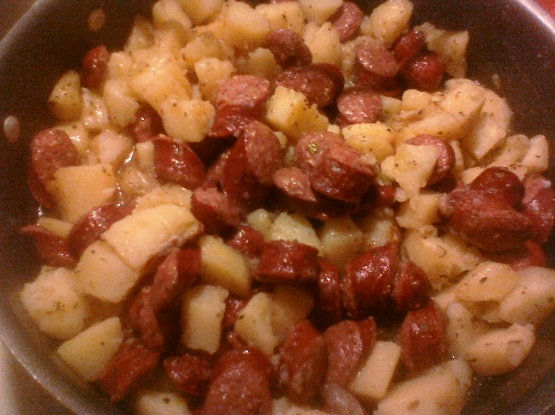 Potato and Sausage in Gravy
2 recipe photos
READY IN:

45mins

SERVES:

6

UNITS:

US
Directions
Use raw link sausage- the kind that is in a casing- usually about 12" long and attached together to make an oval shape. Any type is fine- beef, pork, game, mixed etc.
Brown the raw sausage over medium high heat in a little oil to prevent sticking. Watch carefully so it does not burn. Reduce heat if necessary.
While sausage is browning slice onions into rings or about 1/4" think. You can dice or chop if you prefer.
Also peel and cut potatoes into 1"-2" pieces. The peel can be left on if desired.
Cook sausage until brown on both sides. do not worry if about whether it is cooked through. It will continue to cook in the remaining steps.
Add sliced onion when browning second side of sausage.
When sausage has browned on both sides add water, potatoes, salt and pepper.
Reduce heat to medium or medium low.
Cook until potatoes are tender stirring frequently and adding more water if needed. Cover if desired to retain steam and heat and prevent water from evaporating.
The potatoes will thicken the juices and water and make it's own gravy.
Taste for seasoning, adding more if desired.