"Borekas are savory or sweet pastries made with puff pastry and a variety of fillings. The shape of a boreka usually tells you what the filling is -- triangles for cheese, squares for potatoes, twists for spinach. They are found everywhere on the streets in Israel, often treated as if they were sandwiches. The vendor opens the boreka to add chopped eggs, tomatoes and tahini sauce to the filling (which I haven't listed below, though I do include a recipe for a side of Haminados eggs). He then presents it to you with pickles. The Haminados eggs are simply eggs hard boiled in water containing dried onion peels, salt and pepper, with the option of adding a tablespoon or two of coffee grounds or instant coffee. This imparts a brownish color and wonderfully subtle flavor, which won't taste like either coffee or onions. At the Arab stalls, borekas are sold with a garnish of za'tar and salt. Whichever way you have them, plain or filled, they are totally irresistible.
Sephardic Huevos Haminados (Eggs)
is a separate recipe for the Haminados Eggs (Sephardic Huevos Haminados) with variations for the crockpot and oven. Courtesy Anissa Helou."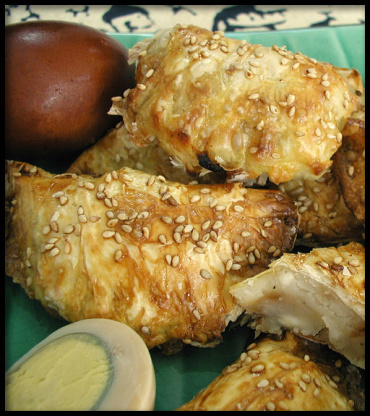 Potato Boreks - Borekas Tapukhay Adama
4 recipe photos
READY IN:

1hr 20mins

SERVES:

6

UNITS:

US
Directions
Place eggs in a pot and add oil, salt, pepper, onion peels and coffee grounds, if using, in water to cover. Bring to a boil on high heat, then reduce to a simmer and cover the pot with the lid slightly ajar. (The eggs will be ready in one hour but most cooks leave them on very low heat overnight.).
Fry the onion in the oil until lightly golden. Season the potatoes with salt and pepper to taste, add the onions and cheese if you're using it, and mix well. Set aside.
Preheat the oven to 400 degrees F. Line a baking sheet with parchment paper.
Roll the puff pastry quite thinly, about 1/4" or less, and cut into 6 equal squares.
Divide the filling into 6 parts. Place one portion in the middle of a square and fold into a triangle. Press hard on the sides to seal well and brush with the egg yolk. Repeat with the remaining dough and filling. Sprinkle the borekas with sesame seeds.
Bake on the middle shelf of the preheated oven for 25-30 minutes, or until crisp and golden. Check the bottoms to see if they are done they should be brown. Serve warm or at room temperature with haminados eggs.
NOTES: These cannot be refrigerated, but can be frozen, preferably before baking.