"Potato Casserole is an easy casserole dish that we like to cook on weekends and take for lunch all week. Saves us a bundle on our Eating Out budget when we bring our own lunch and tastes much better than the old PB&J sandwich route."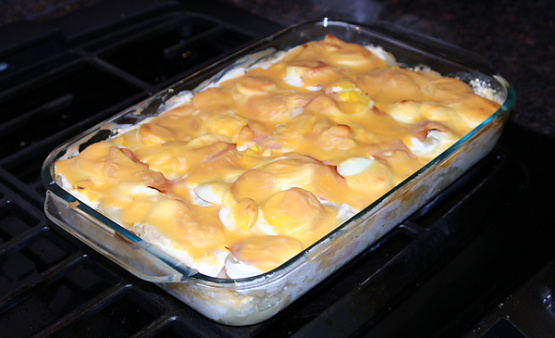 Potato & Egg Casserole
1 recipe photo
Directions
Boil potatoes with the skin on.
Boil eggs until hard boiled.
Drain and remove potatoes when soft through the center. Remove skin and let cool.
Drain and remove eggs when hard boiled. let cool and remove shell.
Cut potatoes into 1/2" slices.
Cut eggs into 1/4" slices.
Cut lunchmeat into 1-2" strips.
In a large casserole dish, put a layer of potatoes at the bottom. Use a spatula to add a layer of sour cream on top of the potatoes and fill in the cracks between the potatoes.
Add a layer of eggs, then lunchmeat, followed by a layer of American cheese.
Repeat as needed until the casserole is full and the top layer is cheese.
If using French's Fried Onions, make the top layer sour cream and add the onions on top of the sour cream.
Preheat oven to 325 degrees and heat casserole for 15-20 minutes.
Remove from heat and let cool for 15 minutes. Serve and enjoy!