"I nabbed this recipe from Ian Parmenter's Consuming Passions Collection III. Ian is an Aussie chef. I thought this recipe was a goodie to share with adventurous cooks. As Ian Parmenter says, "It's a simple pizza style dish that doesn't need bread dough. It relies for its success on the humble spud. The recipe is for the base, which may be used to accompany other dishes, or you may add pizza topping of your choice.""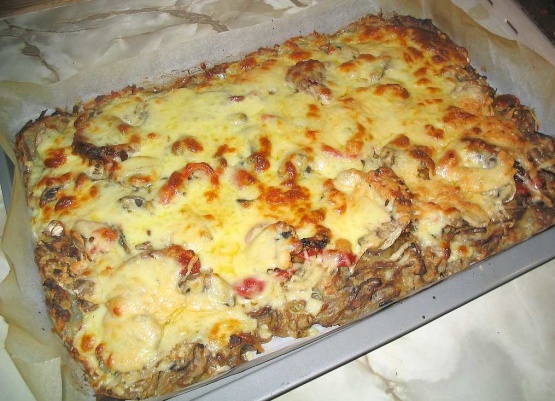 Ian Parmenter's Consuming Passions Collection III. Ian is an Aussie chef. I thought this recipe was a goodie to share with adventurous cooks. As Ian Parmenter says, "It's a simple pizza style dish that doesn't need bread dough. It relies for its success on the humble spud. The recipe is for the base, which may be used to accompany other dishes, or you may add pizza topping of your choice."" data-recipe-url="http://www.geniuskitchen.com/recipe/potato-pizza-28334" data-recipe-title="Potato Pizza">
Potato Pizza
2 recipe photos
READY IN:

2hrs 30mins

SERVES:

6

UNITS:

US
Directions
Finely slice onions into rings and brown them in a little extra virgin olive oil.
Once browned, add red wine.
Add thyme and reduce heat.
Leave onions to simmer in this mixture for about three quarters of an hour.
Check from time to time to make sure they're not drying out too much and sticking to the pan.
Just add a little water to keep them moist.
Peel and grate potatoes.
(If watery, strain out water in sieve).
In a large bowl, mix milk with the egg, flour, nutmeg, cheese and pepper.
Oil a shallow pan which can be put in the oven.
Mix the onion and wine mixture with the egg and flour mixture, and the potato.
Stir well.
Pour the mixture into the pan.
Bake in oven at 200C for about 40 minutes, after which time it should have started getting a golden crust.
At this stage, take it out and add some pizza toppings of your choice.
And put this back into the hot oven.
Or you could put it under the grill for a few moments.
Wine suggestion: Cabernet Sauvignon.