"An elegant side dish served in the finest New York and Boston Hotels/Restaurants in the 1920s and '30s. It's a bit of work but it's not difficult if you follow the instructions and the result is certainly worth the effort. If ever there was a recipe "from scratch," this is it - thus, it's a great recipe on which one can begin building real cooking skills. The genesis of this dish comes from "Fannie Farmer's Boston Cooking School Cook Book". Definitely not for dieters! It's my favorite side dish with poultry and/or pork."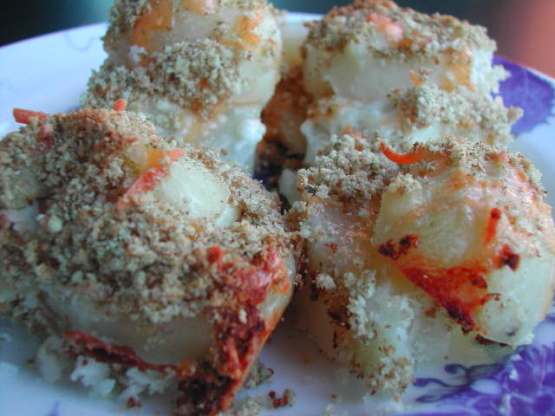 Potatoes Delmonico (Casserole)
1 recipe photo
Directions
To make the white sauce, begin by melting butter in a double boiler.
Blend in flour and seasonings.
Add milk gradually, bring to a boil (stirring) and maintain a mild boil for two minutes.
Reduce heat and simmer for 15 minutes, stirring frequently. Set aside in a warm place when finished.
To prepare the potatoes, boil or bake the potatoes, not too soft!
Cool boiled potatoes in cold water; drain, refrigerate until cool; peel and slice.
To assemble and complete the dish, spray a Pyrex 8"x12" casserole dish with Pam Spray (or grease lightly with shortening).
Pour a little white sauce in the bottom of the pan.
Layer one half of the potatoes on top of the white sauce.
Pour and spread just slightly less than half the remaining sauce over that layer.
Sprinkle on half of shredded cheese.
Add a second layer of potatoes.
Spread the remaining white sauce and cheese, just as before.
Sprinkle the bread crumbs, with the melted butter mixed in, over the top of the white sauce and cheese.
Bake in a preheated 375 degree fahrenheit oven until the top becomes golden brown. (About 45 minutes - watch this closely!).
Serve hot.
get the genius kitchen app.
Watch on your iPhone, iPad, Apple TV, Roku, or Fire TV.
Learn More