"Having come to California from the Netherlands where the weather wasn't always conducive to grilling, my husband has decided he's now rather fond of the barbecue. One of his previous forays into potato-hood (thinly sliced and grilled in a packet) knocked my socks off, so last night I asked him to make those "potatoes like that one time". Taters are wonderful veggies to grill and take quite kindly to herbs. Here, the method and ingredients result in darker, partially crispy potatoes. Toss some peeled garlic cloves in there for some REAL zammy flavor. ("zammy"?....what the....?)"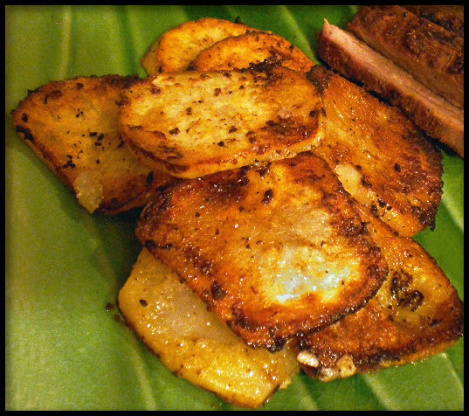 Potatoes Like That One Time
6 recipe photos
Directions
Prepare the grill/barbecue.
Prepare the foil container to resemble the approximate size and shape of an opened laptop computer.
Scrub potato well and pat dry. Cut crosswise into 1/8" slices and arrange them in a single layer on the "keyboard" side of your foil laptop.
Sprinkle with hickory salt, pepper and onion flakes, and lay the rosemary sprigs on top.
Drizzle with olive oil and piece/distribute the butter here and there.
Close your laptop and seal the edges well. You want to steam them first, so make sure it's an air-tight seal.
Grill over direct heat for 15 minutes.
Very gently flip the packet over, cut a few small slits in top to allow steam to escape, and continue grilling for an additional 8 minutes or so.