"This is a tasty pecan chess pie, but its custard is the color and taste of pralines, and it is a little less intense than Dark Pecan Pie - Virginia Hostess Style (although DH prefers the "dark" version). This recipe came from Virginia Hospitality by the Junior League of Hampton Roads. It took my pie 60 minutes in the oven. Be sure to put pie pan on pizza pan to catch any spillage. I added the perfect pecan halves just before baking; they improve the look of the pie for entertaining. I learned through ZWT5 that the French created the PECAN PIE after settling in New Orleans and being introduced to the pecan by the Natives, so it is considered a Creole dish."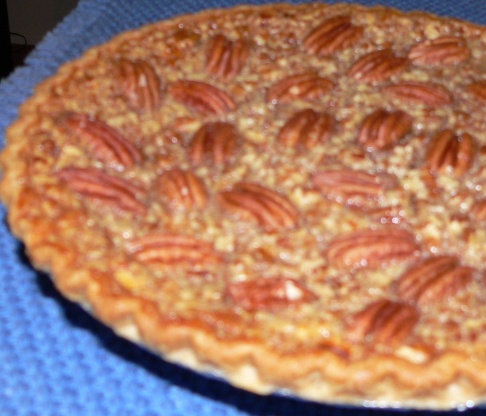 Praline Pecan Pie a La Virginia Hospitality
1 recipe photo
Directions
Sort through pecans to select 1/2 cup of perfect pecan halves. Set aside until pie is otherwise ready for the oven.
Preheat the oven to 400 degrees Fahrenheit.
Mix corn syrup, sugar, milk, lightly beaten eggs, flour, vanilla, and salt and mix well.
Stir in chopped pecans. Mix well.
Pour into unbaked pie shell. Create decorative pattern with perfect pecan halves.
Place pie on pizza pan to catch drips. Bake at 400 degrees Fahrenheit for 10 minutes.
Reduce heat to 300 degrees Fahrenheit and bake for 30 minutes or until firm in the middle.
Cool on wire rack.
Refrigerate.