"Found this recipe on the back of a Breadshop brand Pralines 'n Cream Granola cereal box. Ingredients and instructions are theirs. They don't give a yield or prep time, so I'm making a guess. I'm not a big fan of fruit so I haven't tried this one yet, but thought someone else may like the recipe. I may try making this over the holidays. I had never heard of Breadshop granola and found this cereal at a small local market. I'm guessing that any kind of granola cereal would work, so you can choose the flavor you prefer if pralines and cream isn't available. I'm also not a big health nut so when I do make this, I will probably use butter instead of the Hain Safflower Margarine (which I've never heard of!) :)"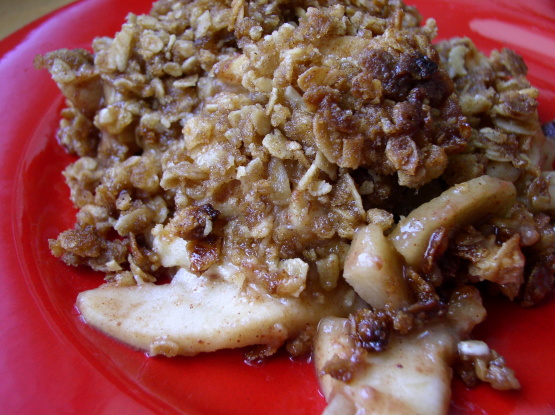 Pralines & Apple Granola Crisp
1 recipe photo
Directions
Preheat oven to 350 degrees.
Toss peeled sliced apples with cinnamon, nutmeg, brown sugar and flour.
Place into 8x10x2 baking dish.
Combine safflower margarine, brown sugar and flour.
Add cinnamon and granola and mix well.
Evenly distribute over apple mixture.
Bake for about 30 minutes, until apples are tender and topping is crisp.
Serve warm with ice cream if desired.