"A simple appetizer that's always a pleaser. I like to use avocado and grape or cherry tomatoes. If these aren't in season use seasonal salad/veggie items or fruits. Rockmelon or mango are good for variety, as is sliced capsicum (peppers), purple onion and cucumber. You can use your choice of mayo or seafood dressing to top of this cocktail if desired. Makes 4 but easily adapted to more or less. You can really use any quantities of ingredients to your preference. If gluten-free check your mayo or topping is also gluten-free. You can use any lettuce of your choice- shred if required"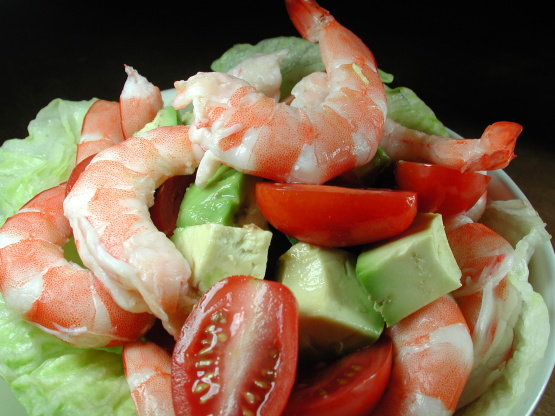 Prawn (Shrimp) Cocktail
3 recipe photos
Directions
To prepare prawns -remove heads and peel. I like to leave the tails intact for presentation (though if serving to children may be better to fully peel their prawns). Set aside.
Layer lettuce leaves in the bottom of 4 small bowls. Top with 7 prawns to each bowl. Place them so that they can be seen around the edges of the bowl. Reserve remaining prawns.
In a separate bowl combine chopped avocado and halved cherries. Mix and coat thoroughly with the juice of half a lemon. Place on top of the bowls of lettuce and prawns- share out amongst the 4 bowls.
Top the cocktails with the remaining prawns (3 each bowl). Sprinkle with some herbs if desired and add some mayo or seafood sauce of your choice.