"My ex's mother gave me this recipe when I was pregnant, it was a weekly meal for me, 'specially because it curbed my morning sickness. Very simple, five ingredients. I don't think theres another recipe on this site just like it, from what I've seen, so I'm posting."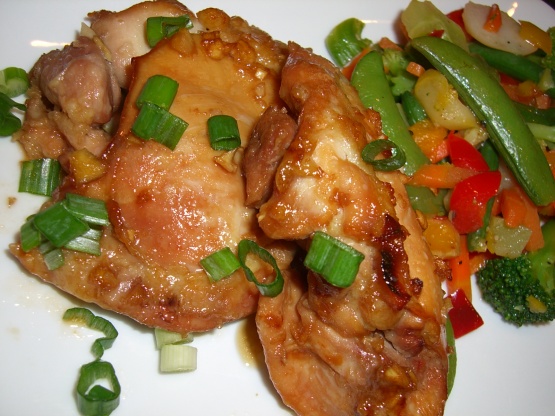 Pregnant Honey Ginger Chicken
3 recipe photos
Directions
Whisk together honey and soy sauce, stirring in the garlic and ginger until blended (honey may settle to the bottom, no worries.).
Pour over thighs in a 9X13 pan, or if you prefer white meat, chicken breast tenders and marinate, one hour for lighter flavour, more for a stronger flavour.
Pop into a preheated oven at 400F for 20 minutes, flipping over halfway and continuing for another 20 minutes. (You can choose to leave some marinade in the pan while cooking, I liked using it for dipping afterwards.).
Cooking times are approximate, so make sure you use a thermometer!
Serve with brown rice, and california blend veggies.