"This recipe was posted for ZWT II and the source is www.elook.org. I picked this dish because soups served with crusty bread are very popular starter courses for Icelandic dinner parties and welcome fare on cold nights. I love the name of this soup and it would be so good served with smoked Icelandic lamb meat. Dare I also mention that my Mother's maiden name was Sullivan and my father's last name was Ryan! So I'm an Irish Colleen born in the U.S., half-raised on Czech food, who developed a fondness for Tex-Mex fare, and eventually moved to Iceland. Now that's a real culinary cultural exchange program of epic proportion! :-) ... PLS NOTE: In response to reviewer comments, I amended this recipe to make the preparation easier and clearer."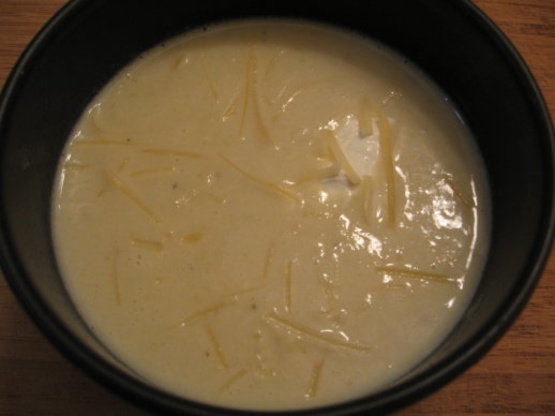 Pride of Irish Soup
3 recipe photos
Directions
Cut away the hard stalk of the cabbage, chop coarsely and set aside.
Melt butter over low heat; add onions and simmer until tender but do not brown.
Add cabbage and potato; stir over low heat. Add mace.
Stir in the flour to coat all ingredients, but do not brown.
Add milk and chicken broth; bring to a boil.
Reduce heat and simmer for 20 minutes or until vegetables are tender.
Transfer soup mixture to blender or use your immersion blender to whip soup until smooth.
Return to pan; reheat; add salt and pepper to taste.
If soup is too thick, add small amounts of milk until you reach desired consistency.
Serve with a spoonful of whipped cream on each serving.
Sprinkle parsley and grated cheese on top of the cream.