"This is a low carb, high protein bread created mainly with coconut flour, almond flour, pea protein, and liquid egg whites. Make sure to use the drinkable coconut milk found in a carton. I created this recipe from an amalgam of several Paleo recipes I found online, then added my own touch. There are only 2 net carbs per slice and 13g protein. I hope you like it!"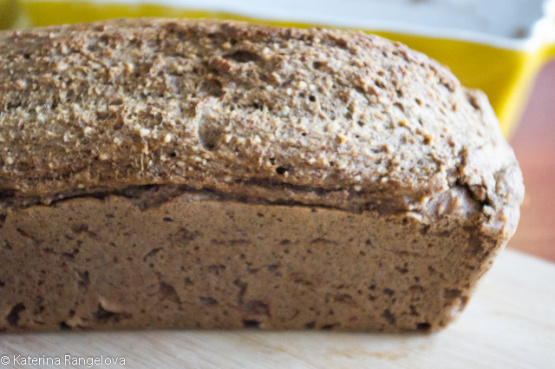 Protien Bread - Almond & Coconut Flour + Pea Protein
4 recipe photos
1

cup almond meal (blanched, 112g)

2

tablespoons coconut flour (15g)

3

tablespoons flax seed meal (19.5g)

66

g pea protein powder (unflavored - 2 scoops)

1⁄4 teaspoon sea salt
1 1⁄4 teaspoons baking soda

1

teaspoon xanthan gum
1 1⁄4 cups unsweetened coconut milk (300mL, from the carton not the can, I use So Delicious brand)
3⁄4

cup egg white (about 190g, use a little more or less for an even batter consistency)

1

tablespoon apple cider vinegar
Directions
Preheat oven to 375 degrees and use spray oil to grease a standard loaf pan.
Whisk together almond flour, coconut flour, flaxseed meal, salt, baking soda, xathan gum, and pea protein in a bowl. .
Add in milk, liquid egg whites, and vinegar until it's about the consistency of thick pancake batter. (You can add a little more coconut milk if necessary).
Pour batter into the prepared loaf pan and bake for 30 to 40 minutes or until the top is golden brown and a toothpick in the center comes out clean.
Makes one 24oz loaf, 8 servings. Total Calories in the entire loaf: 1226.
Per 3oz slice (8 slices): Calories: 153 Fat: 10 Sat. Fat: 2 Carbs: 5 Fiber: 3 Sugar: .7 Protein: 13 Sodium: 394.