"This is a Pumpkin Muffin recipe that started out as a quest to make a copycat of Starbucks Pumpkin Muffins. I've modified this recipe to fit my own taste and had no concern for calories, fat or sugar content. I simply wanted a great tasting muffin."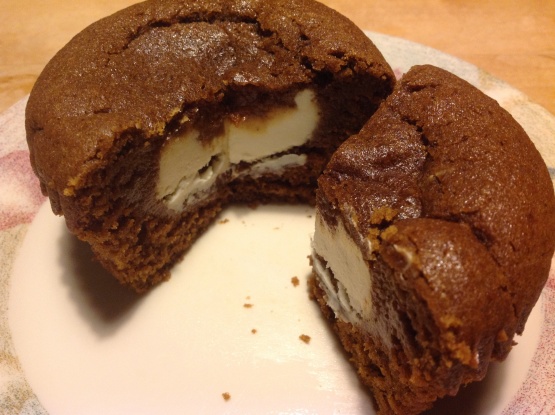 Pumpkin Muffins With Cream Cheese Filling
3 recipe photos
Directions
PREP OVEN:
Preheat oven to 350 degree Fahrenheit.
CREAM CHEESE MIXTURE:
Put the entire brick of cream cheese in a mixing bowl and blend in the 1/4 teaspoons vanilla extract, 2 tbsp powdered sugar and 1 tbsp brown sugar. (Hand mixing seems to work best!).
Place cream cheese mixture on a piece of wax paper or parchment paper and shape it into a long log about 1.5 inches in diameter. Roll the log in to the paper and close the ends. (Tape the paper shut if necessary to keep shape.
[Optional] Put the cream cheese log in the freezer while you mix muffin batter. (At least 1 hour).
MUFFIN MIX:
Mix all remaining dry ingredients in large mixing bowl. Ensure a nice even mixture.
Add all remaining liquid ingredients to dry mix. (Mix together until nice and smooth.
Fill large muffin tins with mixture only half full. (Large muffin pan works best; 6 muffins per pan; 2 pans; greased or paper cups).
Remove semi-frozen cream cheese log from freezer and cut in to 12 equal discs.
Place one disc in to each muffin mix and press down until the mixture begins to fill around the edges and the top of the cream cheese.
Use remaining muffin mixture to fill in the top of each muffin to hide each of the cream cheese discs.
BAKE MUFFINS:
Bake at 350 degrees Fahrenheit for 20-25 minutes, checking to make sure the muffin is baked completely. (Use a toothpick and ensure it comes out clean from the muffin. Be sure not to touch the cream cheese.).
Let cool in pans for 5-10 minutes, then place muffins on rack to finish cooling. (The center of the muffins may fall a bit as they cool, but is normal.).
Placing the muffins in the refrigerator will ensure the cream cheese is cooled completely; and it is best to not touch the cream cheese until it cools completely.
get the genius kitchen app.
Watch on your iPhone, iPad, Apple TV, Roku, or Fire TV.
Learn More