"Source: FamilyFun Magazine Quote: "Your little one might not be old enough to bake holiday desserts, but they can still celebrate the season with this pumpkin-inspired play dough. In honor of the beloved fall fruit, we dyed the dough orange and added pumpkin pie spice and cinnamon to it, which makes it smell -- but not taste -- good enough to eat.""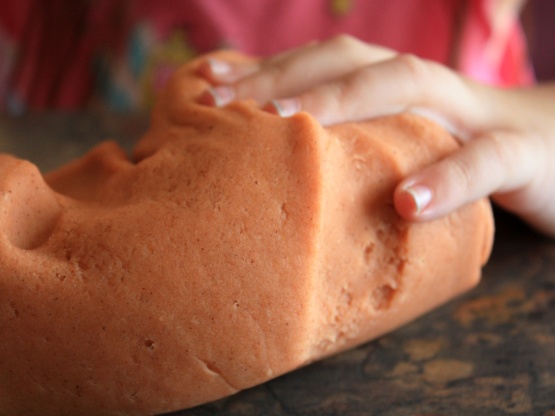 Pumpkin Pie Play Dough (Non-Edible)
3 recipe photos
Directions
Combine the dry ingredients in a nonstick saucepan.
Add the oil, water, and food coloring and whisk until smooth.
Stirring constantly with a rubber spatula, cook the mixture over medium heat until it forms a ball, about 3 to 4 minutes.
Turn the dough onto a counter, let it cool slightly, then knead the dough until it has a smooth texture, about 1 minute.
The dough will keep up to a week in a ziplock bag.
To make pumpkin stems, place some pasta (suggested: fusilli) in a ziplock bag.
Add five drops of green food coloring and a teaspoon of water.
Seal the bag, then let your tot squish the pasta around until it's tinted. Pour the pasta onto a piece of waxed paper and let it dry for about five minutes before pressing it into your pumpkins.