"A tasty treat to use up the rest of the canned pumpkin pie and pumpkin pie spice we have left from Thanksgiving. It is wonderful served warm with either butter or cream cheese for breakfast or iced with cream cheese frosting for a great dessert. Not at all an overly sweet bread which is why it stands up so well to cream cheese frosting, enjoy!"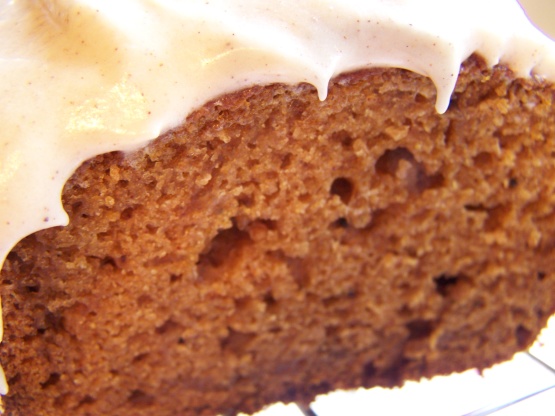 Pumpkin Pie Spiced Bread
3 recipe photos
Directions
Heat oven to 350.
Grease three 8 x 3(or whatever size loaf pan you decide to use) pans and set aside.
In a bowl combine the flour, baking soda, baking powder, salt, pumpkin pie spice and mix until well combined. Set aside.
In a separate large mixing bowl(i like one with deep sides) combine pumpkin, sugars, water, applesauce, vegetable oil, eggs and mix until well blended.
Slowly add the dry ingredients to the wet mixture and mix until smooth.
Filling loaf pans just over halfway, divide mixture between the three pans.
Bake at 350 for 60-70 minutes on middle rack or until a toothpick inserted in the center comes out clean.(one or two moist crumbles are fine).
Let breads cool for 15-20 minutes before removing from pans.
Slice while still warm and serve with butter or cream cheese or let cool completely before icing.
Enjoy!