"I'm ashamed to admit an unhealthy predilection for Starbucks pumpkin scones -- they have way too many empty calories and the icing is enough to induce diabetes -- so I found a copycat recipe and modified it to add fiber and lower fat & sugar."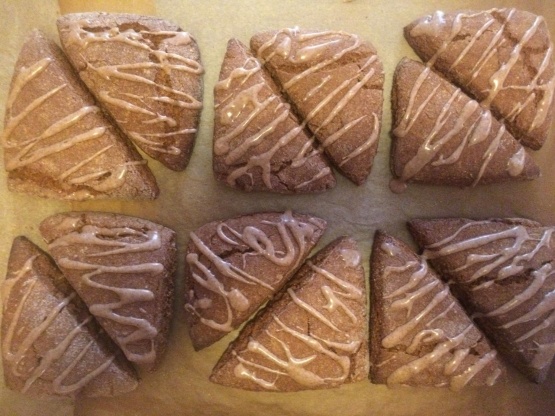 Pumpkin Scones
1 recipe photo
Directions
Preheat oven to 425.
Sift dry ingredients together in a large bowl.
Cut butter into flour mixture until crumbly, with no discernible chunks of butter.
In a small bowl, whisk together pumpkin, milk, and egg.
Fold wet ingredients into dry ingredients.
Form dough into two balls.
Pat each ball into a long rectangle (9x3x1 inch) on a floured surface.
With a sharp, floured knife, cut each rectangle into 3 squares, and each square on the diagonal to form triangles.
Place the scones on a floured baking sheet and bake for 8-10 minutes.
Whisk together ingredients for spiced icing & drizzle over cooled scones. Allow icing to dry (at least 1 hour) before serving.