"I am learning to cook Indian food once a week, and absolutely loving it. This is one of my tutor's recipes, when I brought them home everyone gobbled them up. They were served with my tutor's Lamb Khemma recipe. You can use margarine or butter, depending on your dietary preference. You can also make a large batch of dough, roll the chapatis out and freeze (uncooked) until required. Also, you need to cover the dough tightly whilst it is resting, I put it in a ziplock bag or plastic container with a lid. I didn't do this once and the chapati just weren't the same. Finally, you can use 1/2 wholemeal & 1/2 plain flour if you can't find chapati flour."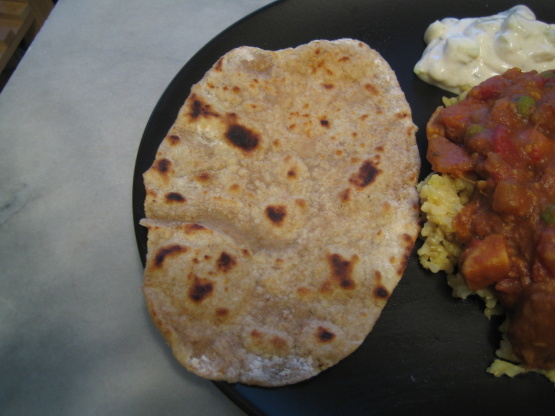 Punjabi Chapati / Chapatis
1 recipe photo
Directions
Put flour into bowl & rub butter/margarine into it.
Add half of the water and stir to combine.
Add the remaining water slowly, stirring until all of the flour is hydrated.
Knead for approximately 3 minutes (be careful, the dough may be hot from the water). The dough will spring back slightly when pressed & may be slightly sticky.
Leave covered for 30 minutes (approx).
Divide into small balls (about half the size of a tennis ball) and dip into extra flour.
Press gently in your hand until slightly flattened into a disc.
Roll with a rolling pin into thin round pancakes.
Heat a heavy based frying pan (I used a cast iron one).
Put the chapati onto the pan and cook until small blisters appear. Turn and cook on the other side (they may puff up, don't worry).
Remove from the heat and wrap in a clean tea towel until ready to serve.