"This is the only fudge I can make. I simply love it. I don't make it too often for obvious reasons. It is just so creamy. I like to pour this in a buttered 13" pan. Makes them thinner but much more of them. Otherwise you can use the regular buttered 9" pan. I have been using this recipe for over 30 years now. Quantity of squares depends on pan size and how big you cut them."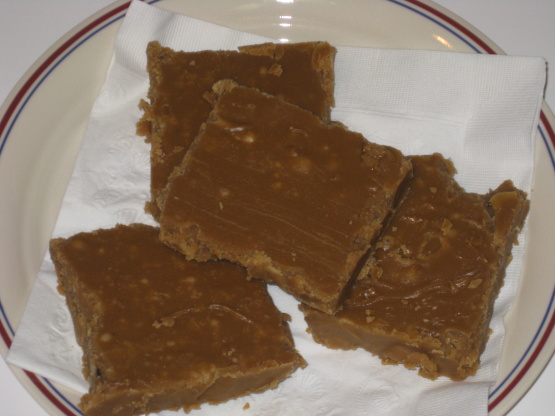 Quebec Fudge (Sucre a La Creme)
2 recipe photos
Directions
Bring brown sugar and butter over low heat to a boil. Remove from heat and add Carnation milk. Bring back to a boil and boil gently for 5 minutes stirring constantly. (Careful it doesn't spit on you, it will hurt -- personal experience).
Remove from heat and mix in well the icing sugar.
Mix in nuts if adding.
Pour into buttered dish. Using either a 9" pan or 13" pan and let cool completely. Remove from pan and cut into squares.