"I just love this. It is so much better than what they sell at the market. Nice and crisp, too. Be sure to mix this in a bowl that can take some heat, such as stainless steel. Yummy! TNT"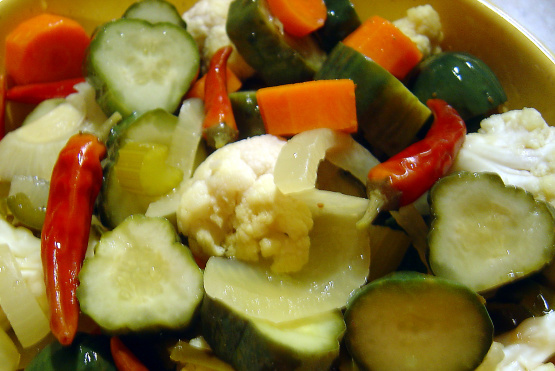 Quick Spicy Garden Mix Pickles (Refrigerator Method)
1 recipe photo
Directions
Place cucumbers, cauliflower, and jalapenos (if using pickled ones) in a mixing bowl.
If using fresh jalapenos, place them in a large saucepan with the onions, carrots, celery, pickle juice, sugar, jalapeno brine, chile peppers, garlic, celery seeds, and mustard seed and bring to a boil.
Mix hot brine mixture with cucumbers in the mixing bowl, stirring to blend.
Pack mixture into a large container or jars and refrigerate for 1-2 weeks, stirring daily, until cucumbers are pickled but still crisp.
Pickles not suitable for canning or freezing. Store unused pickles in the refrigerator.