"I love tomato jam, but can't buy it in the UK! So the last time I went back to South Africa on holiday, I managed to get hold of this very easy and very quick tomato jam recipe."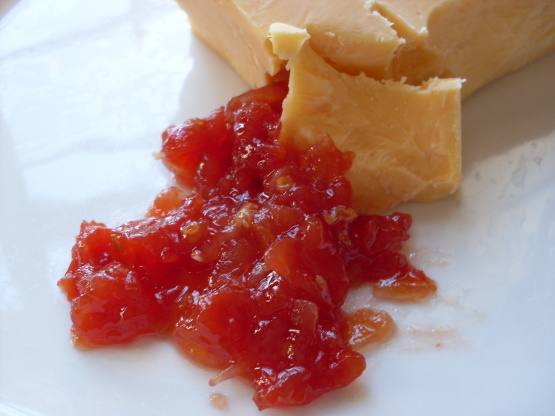 Quick Tomato Jam
3 recipe photos
Directions
Mix tomatoes, apple and ginger in a large microwave-proof dish.
Microwave uncovered at 100% power for 15 minutes.
Stir in lemon juice and caster sugar and microwave at 100% for a further 40 minutes, or until jam starts setting, stirring every 10 minutes.
The time the jam takes to set depends on the wattage of your microwave.
It might be a good idea to spoon a bit onto a cold plate after 25 minutes, and see if it sets.
When done, spoon the hot jam into sterilized jars and seal immediately.