"Puff pastry shells spread with a tangy cream cheese dressing and topped with smoked salmon and rows of rainbow-colored veggies. They assemble easily, are colorful and are ideal as a salad course (or light luncheon entree). ... Pls see EDITED TO ADD AFTER RSC CONCLUDED note for an alternate salad option."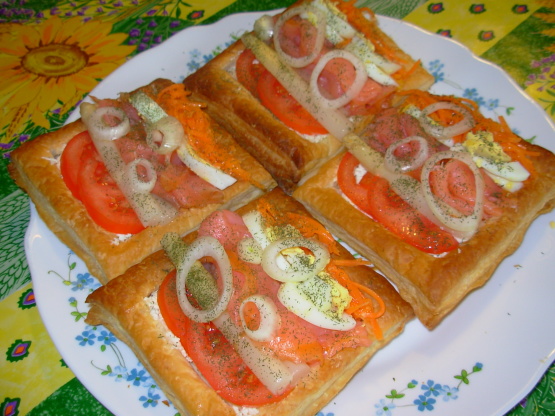 Rainbow Smoked Salmon Salad in Puff Pastry
2 recipe photos
Directions
Preheat oven to 375°F.
On a lightly floured surface, roll out cold pastry sheet. Cut 4 5x5 in squares. Using a dull kitchen knife, gently score cut squares 1/2 in inside all cut edges to create a 4x4 in inside square.
Dock the 4 in inside square of the pastry to prevent excessive puffing (This is done by piercing the dough at 1/2" intervals w/the tines of a fork).
Line the 4-in inside square w/foil or parchment paper & place dried beans or rice on it to stop the pastry base from rising excessively in the oven.
Gently transfer squares to baking sheet & bake 15-18 min or till golden brown. Remove from oven & set aside to cool.
While pastry is baking, cook carrot coins to desired doneness, prepare other ingredients & set aside.
Combine cream cheese, Dijon mustard, lemon juice & dried dill. Mix well & set aside.
To Assemble Salads: Gently remove any excess puffed pastry from the 4x4 in inside square so that surface is relatively flat. Spread each scored 4-in pastry area w/approx 1 1/2 tbsp of the cream cheese dressing.
Then assemble salads all at 1 time in rows using the following order & begin at the top as you face the pastry shells:.
Row 1: Layer 4-inch row of sliced grape tomatoes -- Row 2: Place 2 cut-to-size asparagus spears -- Row 3: Layer 4-inch row of shaved smoked salmon slices -- Row 4: Layer 4-inch row of sliced egg halves -- Row 5: Layer 4-inch row of carrot coins.
Scatter thinly sliced white onion rings (or segments) over the top of all salads.
Garnish w/capers &/or dried parsley flakes as desired. Serve immediately or refrigerate till ready to serve.
NOTE: Edited to add after RSC concluded -- If you prefer to eliminate the use of puff pastry, these salads assemble easily on a salad plate of mixed greens -- not near as elegant, but just as pretty!