"I got this recipe out of Paula Deen & Friends book. I'm looking for new recipes to add to my Holiday Trays...this one is a WINNER. Easy to make and delicious! Recipe says 4 Dozen, I got just 3 out of it..(made my balls too big!) Next time I'll make them closer to the size of walnuts like suggested! I can totally see this made with other dried fruit, cherries or cranberries would work great!"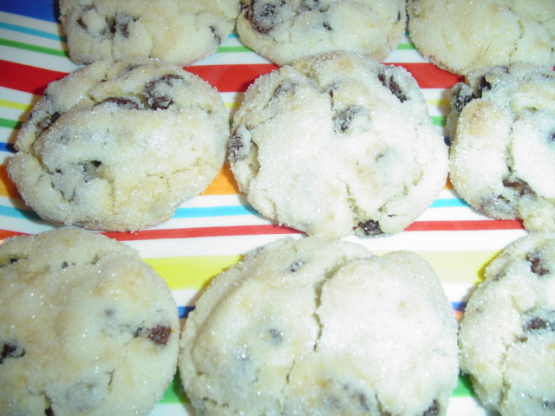 Raisin Puffs
2 recipe photos
Directions
Preheat oven to 350 degrees.
Line cookie sheets with parchment paper or nonstick baking mats.
Place raisins and 3/4 cup water in a small sauce pan and simmer gently until the raisins have absorbed most of the water and are soft, about 5 minutes, drain.
Using an electric mixer at low speed, cream the sugar, butter and vanilla until thoroughly combined.
Sift together the flour, baking soda and salt.
Stir the dry ingredients and raisins into the butter mixture with a spoon.
The batter will be crumbly.
Gather about a tablespoon of dough in your fingers and squeeze so dough holds together.
Roll into walnut-sized ball.
Roll the balls in granulated sugar and place 1 1/2 inches apart on the prepared cookie sheets.
Bake for 12 to 15 minutes, until lightly browned and puffed.
Transfer to wire racks to cool.
Store in airtight tins, as these are quite fragile and have a tendency to fall apart if jostled.