"Sweet milk balls in thick milk.This recipe is really great.when I was in India I used to make it with fresh cow's milk.But in the USA its hard to find fresh cow's milk ,so I just make it with Samrock whole milk or any whole milk.Every time it comes out great."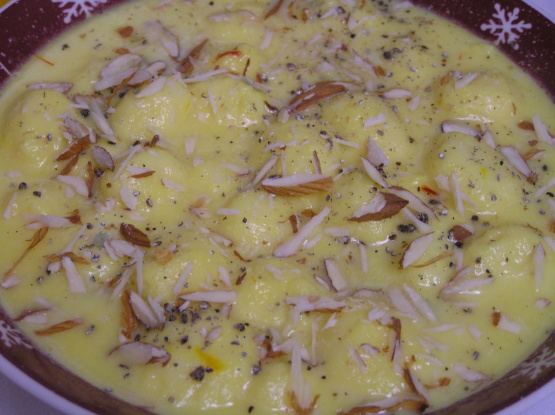 Directions
Sour the whole milk with lemon juice.
Discard all the water (whey) and put solids (curds) in cheese cloth and press it with heavy weight.
After 1/2 hour take out the weight and knead the chenna very properly.
Make small balls of the size of dime.
TO MAKE SUGAR SYRUP.
In a sauce pan boil 3 cups of water and sugar together.
when it starts to boil, drop in the chenna balls.
On medium heat cover the pan and let it simmer for 1/2 an hour. If you have Indian style pressure cooker keep the lid closed with whistle on for 15 minutes on a VERY LOW HEAT(extremely important). switch off the heat.Frequently stir it so that the chenna balls don't stick to each other.
In another pan boil heavy cream, 2 cups of whole milk and saffron strands. Add 5 tablespoon of sugar.
Keep simmering for 20 minutes until the milk becomes thickened, taking care not to scorch.
Now take out the chenna balls from the sugar syrup.
While the whipping cream and whole milk is still simmering, drop in the chenna balls in it and simmer for another 15 minutes on low heat.
switch off the heat.
place the milk rasamalai in a bowl, sprinkle cardamom powder and almond flakes and refrigerate.
Serve cold.