"This is a fantastic light dessert that tantalizes the taste-buds! I developed this after having something similar at a restaurant, but they used brie cheese and strawberries. A couple of notes..... For the goat cheese, I've found that buying it in the "log" form easier to work with. Likewise, with the raspberries, I've found that using frozen bagged raspberries easier to work with. But that's not to say you couldn't use fresh or a jam/jelly. I have also used other types of berries. The reason I prefer the frozen is that when I combine the slightly thawed raspberries with the goat cheese, it blends into a consistency like a frozen yogurt which is easy to spoon onto the phyllo. To finish it off, just before serving, I drizzle honey over each bundle. When you unwrap the phyllo sheets, cut the full sheets into 1/2 sheets crosswise. These are easier to work with. Any sheets you are not going to use, wrap back up and place back in the freezer for future use. I use a small blender to chop up raspberries and mix in the goat cheese. I found that using a butter flavoured oil (ie. Pam) spray works and tastes as good as butter but speeds up the prep time. Just spray it on each layer in a light coat and brush it the same as you would butter. I build up about 6-8 layers of phyllo, cut that into 6 smaller "squares" (what I am referring to as a batch) and then spoon on the mixture to each square. Between each batch of bundles, I place the raspberry/goat cheese mixture as well as the already formed bundles in the freezer and then start to form the next batch. Keeping the mixture in between batches keeps it from thawing out too much and becoming a runny mess. The mixture should yield roughly 18 small bundles at about 24 grams (0.85 ounces) each, depending on how liberal you are with each spoonful onto each square. These can be left frozen until you're reading to bake them. Whether it is that evening or a week later. I preheat the oven and bake from frozen. See pictures for an idea of the procedure."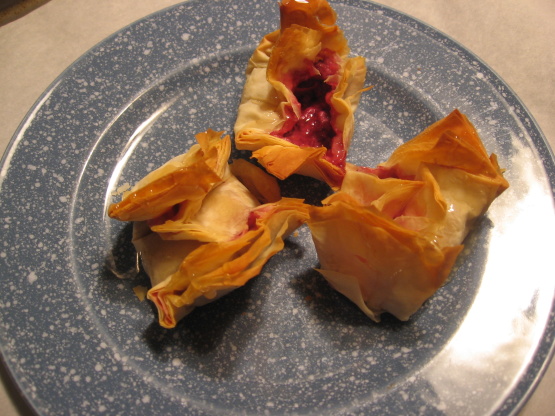 Raspberry and Goat Cheese Phyllo Bundles
7 recipe photos
130

g raspberries (or other)

56

g goat cheese (to taste)

9

sheets phyllo pastry (18 half sheets)

9

g canola oil, Butter-Flavoured . Roughly 1/2 to 1 second of spray per 1/2 sheet

18

g honey, approximately
Directions
Place frozen berries in a dish and let sit for about 5 minutes.
Puree berries in blender.
Add goat cheese to berry puree and blend until a consistency of frozen yogurt.
If using a large blender, remove mixture to a small bowl for easier handling.
Place berry mixture in freezer.
Unroll thawed phyllo roll and cut full sheets in half crosswise. Place desired amount of half sheets onto counter top or a cookie pan and cover with a sheet of parchment paper larger enough to cover entire phyllo sheets, then place a dampened cloth on top of the parchment paper. The parchment will keep the cloth from sticking to the phyllo.
Cover a cookie pan with a sheet of parchment paper ( wax paper is fine here too).
Place 1 phyllo sheet (half sheet) onto the parchment. Brush with butter or spray with butter-flavored canola oil. About 1/2 a second to 1 second of spray over the entire phyllo sheet should be enough. Brush the spray afterwards.
Place another phyllo sheet on top of the previous and coat it the same. repeat for approximately 4 more sheets.
Once you have 6 (or more if desired) sheets, Cut into 6 smaller squares (or 4 larger if you want larger bundles).
Remove berry mixture from the freezer. Place a heaping teaspoon onto each square of phyllo.
Fold opposite corners to each other to create a kind of closed bag.
Place folded bundles onto a tray or flat plate and place into freezer.
Repeat 8 through 13 until all sheets and mixture is used. ( you can freeze mixture for future use if you end up with extra). Be sure to put the berry mixture back into the freezer between bundles.
Store bundles in freezer until ready to bake.
Preheat oven to 375 Fahrenheit.
Remove frozen bundles from freezer and place onto parchment paper on a cookie sheet. Place tray in oven and bake for 15 minutes (or until golden brown).
Place bundles onto serving plates. Drizzle honey over each bundle and serve.
get the genius kitchen app.
Watch on your iPhone, iPad, Apple TV, Roku, or Fire TV.
Learn More