Want more from Genius Kitchen?
Watch on your Apple TV, Roku, or Fire TV and your iOS, Fire, or Android device.
Learn More
"These biscuits are legendary at the State Fair of Texas. For about twenty years Ray Gregg, a chef at a local Dallas hotel, gave at least one demonstration each day on making "Batch Biscuits" for the three-week run of the Fair.) A "batch" being anything from six biscuits to two hundred -- which he baked for his normal demo, and the biscuits on the last day of the fair always tasted the same as they did on the first day. Ray had a comic flair that livened his demos. For instance, he would go to great length to emphasize the necessity of using accurate amounts of each ingredient -- then he would reach over and get a 5-gallon can in which he kept his flour and then poured several pounds into his huge 24-inch wooden mixing bowl, getting big laughs as he fanned the cloud of flour dust which resulted. He was equally exact with the other ingredients scooping a big wad of shortening direct from the can with his hand, and pouring "glugs" of milk direct from the jug. He also emphasized the necessity of being gentle with the dough to keep it from becoming tough by being ever so gentle after turning the dough onto the flowered surface -- he almost treated the tough as if it was fire hot. In his patter he would emphasize the need for gentleness and the necessity of "kneading all the lumps out, but occasionally you will encounter a stubborn lump so you have to -- " and he would reach over and get his 2-feet long rolling stick and give the dough several whacks -- which always surprised the audience, and slung bits of dough all over the place ( a la Gallagher and the watermelon bit.) He always got a big laugh from this bit of stick. I have had good results with this recipe over the years and I don't see the necessity of "fixin' what ain't broke," so, I will just hang on to this one. Later addition: After using this recipe for over thirty years I finally learned that the biscuits can be made much easier and faster with the use of a food processor. Just place the flour and shortening in the processor and give the "pulse" button three shorts bumps to achieve the normal "corn-meal sized particles." Add the milk and zap for about three or four seconds or until the dough forms a ball and starts riding on top of the mixing blade. My ol' southern Mama would flip in her grave if she knew I was making biscuits with a food processor!"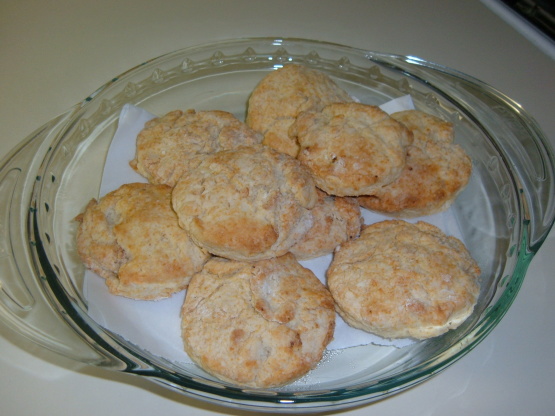 Ray Gregg's Batch Biscuits (Southern Style)
2 recipe photos
Directions
Heat oven to 450-degrees.
Measure flour into mixing bowl.
Cut the shortening into the flour until it is cornmeal consistency (Ray used his hands for this -- sort of pinching and squeezing to blend together -- nowhere near cornmeal consistency.).
Add milk. If dough is not pliable add enough milk to make a soft, puffy dough. Too much milk makes the dough sticky, too little milk will result in dry biscuits.
Place on floured board and knead slightly.
Roll out to about 1/2-inch thickness. For puffy fat biscuits roll thick, for thin crusty biscuits roll thin.
Cut biscuits, using a 2-inch cutter. Place on ungreased baking sheet. Bake until golden brown (about twelve minutes).
Substitute: To all-purpose flour, add 3 t baking powder and 1 t salt.
Buttermilk biscuits (my preference): to the self-rising flour (or the corrected all-purpose flour) add 1/2-teaspoon baking soda, and increase milk to 1 cup.
get the genius kitchen app.
Watch on your iPhone, iPad, Apple TV, Android, Roku, or Fire TV.
Learn More