Want more from Genius Kitchen?
Watch on your Apple TV, Roku, or Fire TV and your iOS, Fire, or Android device.
Learn More
"Ready, Set, Cook! Special Edition Contest Entry: In 36 years of marriage to my Hispanic husband, I have never attempted making tamales on my own. Last week, a friend came home from Arizona with a "souvenir" for me -- dried corn husks. Hubby laughed, "Yeah, like you'll ever make tamales!" He's eating his words, and devouring these tamales!"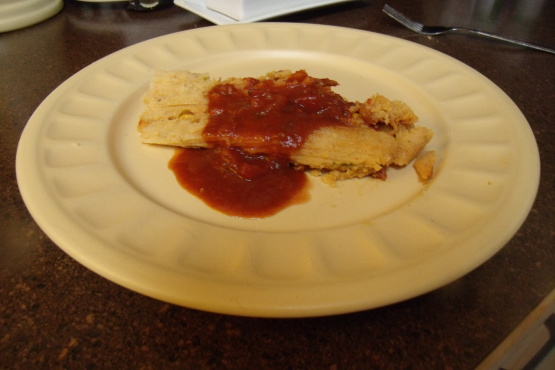 Ready-Set-Cook! Papas Y Puerco Tamales
5 recipe photos
Directions
Most folks (myself included) associate tamale-making with a yearly holiday tradition in hispanic families. In other words, lots of hands to help! To do this on my own, I prepared the pork meat one day, finished cooking and assembling the next.
Rub pork meat with cumin and garlic powder. Put in slow cooker, topped with chopped onion and first can of diced tomatoes & chilies. Cook on low for 6-8 hours. Remove meat from cooker with tongs, and using two forks, shred meat, discarding bones and cooking liquid.
If you are finishing the recipe the next day, cool and refrigerate meat at this point.
Now rinse your dried corn husks, place in a deep pan and cover with very hot water. These must soak for an hour or more to become pliable. To keep husks fully immersed in water, place a clean heavy plate or bowl on top of husks. (My husband's family usually do this the night before any tamale-making party, Simply cover the pan and let the husks soak all night.).
Next, prepare your sauce by combining sauce ingredients in a saucepan and heat to a low boil. Remove from heat.
Place shredded "No Mas Papas" hashbrowns, garlic powder, onion powder, and mexican-style chili powder in a microwaveable bowl, add a splash of water, cover and microwave on high for 5 minutes.
In a large frying pan, add shredded pork meat, partially-cooked potatoes, frozen corn, and 1/4 of prepared sauce. Cover and simmer for 15 minutes. If filling becomes too dry, add a bit of chicken broth to keep it simmering. Add chopped cilantro, stir in, and remove from heat. Your filling is now ready.
Prepare dough by combining all dry ingredients in large mixing bowl. Add warm chicken broth a little at a time, stirring by hand, and stop when you have a soft moist dough. Depending on the brand of masa, you may only need 3 & 1/2 cups of liquid to reach this consistency.
In a smaller mixing bowl, whip room-temperature lard until very creamy (about 3-4 minutes using a hand mixer). Stir in minced green onion. Add whipped lard to moist dough, and continue beating dough by hand until lard is fully incorporated and dough is spongey.
Time to assemble! First, get out your big soup pot, fill with an inch of water, and insert steamer basket.
Drain softened corn husks completely. Take one husk, pointed end towards you, a heaping spoonful of dough, and spread on husk. Cover the top 2/3 of the husk and outward to within 1/2 inch of left and right edges. How thick? You want to cover "just enough" so that the husk underneath is not visible. Don't waste time "painting" your dough perfectly like I did at my first tamale-making party in the 70s - they all taste the same! Next, top your dough with a heaping tablespoon of filling, followed by a teaspoon of sauce. Fold the bottom of the husk up, then one side and the other. Stand your tamale in the steamer, open-end UP.
And as my daughter likes to say, "Rinse and repeat!" Continue until you have two dozen tamales ready to cook. Bring water in steamer to a boil, lower to simmer, and cover pot with a clean wet dishtowel. Cook for one hour, or until masa dough is cooked through. (I tried a "test tamale" to be sure -- that's my story, anyway!).
Unwrap tamale, top with a spoonful of sauce - enjoy!
Options: I only made one dozen tamales, cutting the dough and sauce measurements in half, but making the full meat filling recipe. After filling and wrapping my dozen tamales, I put the remaining filling in a sealable freezer bag for another batch at a later time. This filling is also delicious stirred into scrambled eggs for a zesty form of "machaca" or used as a burrito-filling. When corn is in season, oil & grill two corn cobs until roasted, and cut the kernels from the cob, in place of defrosted frozen corn in recipe. Any leftover tamales can be cooled, wrapped in foil, and placed in a sealable freezer bag to enjoy another day.
Also note, the prep time I recorded includes the cooking & shredding of the pork shoulder roast on day one, and heating through the next day of the filling, rather than including that as cooking time. I viewed all of this as "prep" for the final cooking stage.
get the genius kitchen app.
Watch on your iPhone, iPad, Apple TV, Android, Roku, or Fire TV.
Learn More