Want more from Genius Kitchen?
Watch on your Apple TV, Roku, or Fire TV and your iOS, Fire, or Android device.
Learn More
"Here's the deal….if you want REAL authentic Italian tomato sauce, you've come to the right place. Sure you can save yourself all the time by opening a couple cans of diced/peeled tomatoes, but then again, that's not authentic at all. You can freeze this sauce for later use. This sauce is perfect for anything that requires a tomato sauce: e.g. spaghetti, lasagne, pizza sauce, etc. My girlfriend learned this authentic recipe while living in Italy for several years. It's simple, but takes a lot of time and a lot of love, but its well worth the effort! This is for your free Saturday or Sunday when you will be in the house for the day. Add more tomatoes, garlic, or basil if you wish. There really is no set amount for each of these, but I do suggest a minimum of 10 whole red ripe tomatoes, and a minimum of 5 garlic cloves. Add some crushed red pepper to give it a kick if you wish. This recipe is the rundown of how I make the sauce now. It took me several attempts to really master this, but once you get it down you can make more tomatoes at a time. I usually work with two pots and start out with 10 in each pot, skin all the tomatoes in both, combine and start more in the empty pot to really make a large pot to freeze. The local vegetable stand sells 25 lb. baskets for $9 while in season. We do 50 lbs. a week for a month, so we can freeze and have great sauce all during the winter. I'm going to put this makes 4 servings, but I'm really not sure. The amount of sauce used per person differs."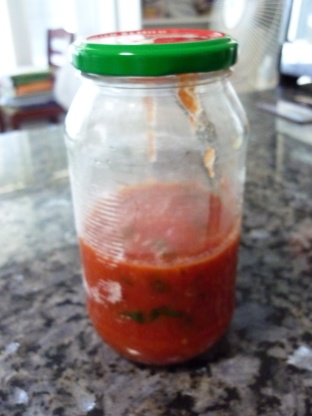 Real Authentic Italian Tomato Sauce (No Can's Here)
1 recipe photo
READY IN:

7hrs 10mins

SERVES:

4-6

UNITS:

US
Directions
Wash, and core tomatoes. I also like to cut the little "nub" off of the bottom of the tomato. Just the nub, and this will make it easier to remove the skins from the tomatoes.
Place whole tomatoes in a large pot and drizzle 2 tablespoons of extra virgin olive oil over tomatoes. Place lid on pot and heat over medium.
After about 15 minutes give the tomatoes a stir (I use a fork to do this), ensuring not to break them up. This moves the ones on top to the bottom to help the skins to become loose and to prevent burning any skins. Cover and allow to cook for 15 more minutes.
After 15 minutes, take a fork and fish out a tomato from the bottom. Keeping the tomato in the pot, use two forks, or a fork and wood spoon to start removing the skins. If you like, you can take the tomato out and place on a plate or in a bowl to do this, just make sure you keep the juices. If the tomatoes are not fully ready to be skinned, put the lid back on and check every 5 minutes. (This is the most time consuming part, but once you get the hang of it, it becomes really simple.).
After all or most of the skins have been discarded, lower the temperature to medium low and allow to simmer uncovered. This is simply stewed tomatoes at this point.
Once an hour, check the sauce and stir thoroughly. Using a wooden spoon, start to break up the tomatoes over the period of checking them. (Note: Don't break them all the way up on the first, second of even third time of checking them. Break them down over time).
After about 5 hours, smash all tomatoes with whatever instrument you can find that will work. Add garlic cloves whole, use more than 5 if you like, I DO! (Do not mince/chop garlic) Allow to simmer for another hour. (Note: If you feel the sauce has reached your desired consistency or is nearing, you can add the garlic earlier).
After 1 more hour, the garlic should be soft enough to smash easily on the side of the pot and the garlic will literally disintegrate into the sauce. If sauce is at your desired consistency, you can remove from the hot eye at this point and go to the next step, if you like your sauce a little less runny, or thicker, leave on and continue to monitor to your liking.
Once the sauce is to your desired consistency, remove from heat and add 1 cup of fresh basil leaves, stir. Fresh is important to making really good sauce. Salt to taste. If you like a little spice, add some crushed red pepper.
get the genius kitchen app.
Watch on your iPhone, iPad, Apple TV, Android, Roku, or Fire TV.
Learn More