"I first had this recipe after buying it at our school fundraiser. It was so good that I went through the trouble of finding out who made it and got the recipe. Since then I have made it numerous times and given away lots of little jars at Christmas. It is delicious served with cream cheese and crackers. I am not absolutely sure of the yield, it could be more."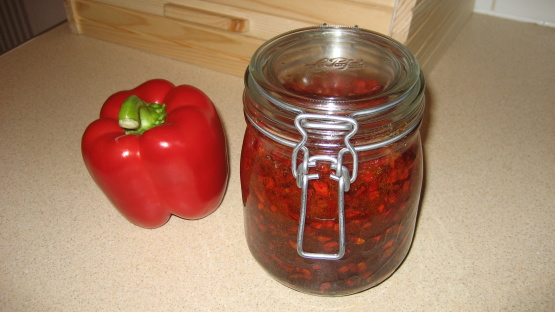 Red or Green Pepper Jelly
1 recipe photo
Directions
Chop peppers finely (It's faster to use a food blender to do this.) In a large saucepan, combine sugar, red or green peppers and vinegar.
Stir and bring to a full rolling boil.
Boil over medium-high heat for 15 minutes, skimming off foam.
Remove from heat; blend in pectin and stir for 2 minutes.
Pour into sterilized jars.
Keep in your refrigerator or freeze when cooled down.