"Also called "Deli Dills Refrigerator Pickles." These are the BEST dill pickles ever! You don't need to can/process these pickles, as they keep in your frig for up 9 - 12 months. This is my most-requested recipe. Everybody LOVES them."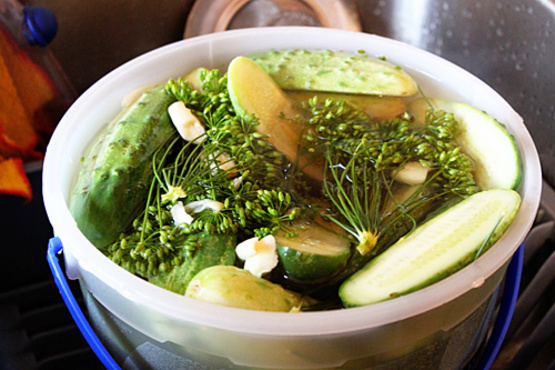 Refrigerator Dill Pickles
1 recipe photo
Directions
Bring brine solution of water, vinegar & salt to a boil, then turn off burner.
In an ice cream bucket, layer dill head(s), garlic chunks, onion slices and cucumbers. Small cucumbers can be thrown in whole. Larger cucumbers should be quartered.
Pour warm (not hot) brine over the cucumbers and place a plate on top to keep the cucumbers submerged. Cover bucker & put in frig. Pickles can be eaten after 5 day. Pickles will last in frig for 9 - 12 months.
NOTE: Other ingredients (such as hot peppers, whole black pepper corns, mustard seeds, red pepper flakes, etc. ) can be added to the ice cream bucket for a different flavor sensation.