"Simple and wholesome - Rei, my Japanese spitz puppy would beg for these! Use any baby food you like as long as there's no onions in the it (some dogs may be allergic to corn too). BTW if your dog is sensitive to wheat, you can also use brown rice flour although amount may vary. Just mix till u get a slightly sticky dough that you roll into balls with."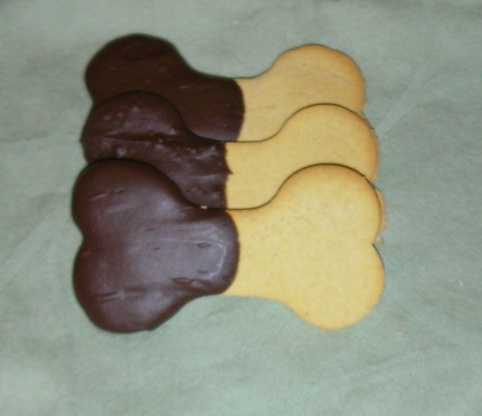 Rei's Favorite Cookies (dog Treats)
7 recipe photos
Directions
Beat baby food, eggs and salt together in a large bowl.
Stir in flour until dough comes together (you might need slightly more/less flour).
Roll dough into balls (about 1/2 inch) and place on parchment-lined baking sheet.
Flatten each balls with spoon/fork; bake for 25-35mins at 350°F (depends on how hard and crunchy you want the cookies to be; Rei likes extra crunchy so I baked at 350F for 40mins).
Remove and cool thoroughly on wire racks; store in airtight container (I store cookies in the fridge to prevent mold).