Want more from Genius Kitchen?
Watch on your Apple TV, Roku, or Fire TV and your iOS, Fire, or Android device.
Learn More
"My husband and I are bird lovers, and are always looking for ways to bring them closer to us. Suet is essential for winter survival, as it provides heat and energy for their little bodies. I've recently read several articles on how to render beef fat for making your own suet cakes. Although they aren't expensive to buy, it's always rewarding to make something yourself. The best base for the cakes is fat rendered from beef suet. The heating process not only eliminates impurities, but it becomes harder with each 'melting/cooling' process. This will give you a finished product that can withstand higher outdoor temperature (if hung in shade). Many bird food recipes I've read mention using only peanut butter, lard or shortening as a base for the cakes. These however, will soften and go rancid faster. In addition to suet 'cakes', you can also load pine cones with warm suet and roll in seeds. What a great gift for your 'bird loving friends'. Suet is fat that is located around the kidneys. It is not the same as fat bits that are trimmed from cuts of meat. Notes: - 2 lbs of raw suet will yield approximately 12 cups of fat. - Purchased suet cakes measure 4-1/2 x 4-1/2 x 1-1/4" thick. Save your 250ml dairy containers (sour cream, cottage cheese etc) to use as molds. They are also 4-1/2" in diameter. - Drill 1-1/2" holes in logs and fill with the suet/seed mixture. - Raw suet cuts much easier when frozen. - My yield from 12 cups of fat - 14 cakes, 12 cones - Yields will vary with the amount of seed, and molds used. - Please ignore the indicated number of servings. :)"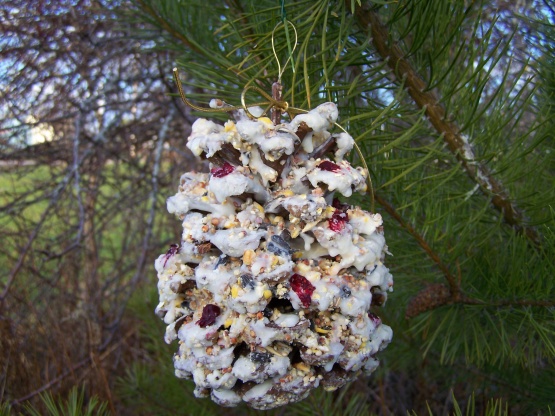 Rendering Beef Fat for Suet Cakes and Cones (Bird Food)
9 recipe photos
2

lbs beef suet

Peanut Butter Suet

2

cups fat, rendered

1⁄2 cup peanut butter, crunchy
1⁄2 cup unsalted peanuts, chopped

2

cups mixed bird seed

Fruit and Nut Suet

2 1⁄2

cups fat, rendered

1⁄2 cup unsalted peanuts, chopped
1⁄2

cup unsweetened dried cranberries, chopped

1⁄2

cup dried apple, chopped

2 1⁄2

cups mixed bird seed
Directions
Using a large knife, cut the frozen raw suet into chunks.
Place about 2 cups of these chunks into a heatproof (glass or ceramic) container. Cover with a lid or dinner plate and microwave on HIGH for 5 - 8 minutes.
Pour or strain the liquid fat into another heatproof container (I use glass measuring cups) and set aside.
Continue until all the raw suet has been processed. Discard what is left of the 'chunks'. You now have several containers of rendered fat. Easy, isn't it.
At this point, you can proceed with making the 'cakes' or refrigerate the fat for another time.
To make Cakes and Cones:
Use lengths of thin wire or string to make a hanger for the cones. Starting at the base of the cone, weave the wire around the cone towards the top. Leave enough to form a loop, then weave back down to the base. Tie to secure.
Melt the specified amount of rendered fat in the microwave.
As the fat begins to cool, it will become cloudy and thicken. It is at this point that you can add the remaining ingredients and press into the molds or pine cones.
Place in the freezer for 30 minutes.
When they have hardened, unmold and wrap the cakes/cones in waxed paper. These can now be stored indefinitely in the freezer.
get the genius kitchen app.
Watch on your iPhone, iPad, Apple TV, Android, Roku, or Fire TV.
Learn More