"The French Paradox,,,the observation that the French suffer a relatively low incidence of coronary heart disease even though having a diet pretty rich in saturated fats. It is thought that their saving grace is coming from all the red wine that they drink. Red wine contains resveratrol, a natural substance that has been linked to the prevention of many diseases including cancer and also to healthy life expansion. I love red wine but I also wanted to see what other foods contain large amounts of the stuff!! Surprisingly, peanuts!! I decided to put together a trek mix using some of the tasty resveratrol winners!!! I find that I enjoy a mix of fruits and nuts with a little salt and a treat like chocolate rather than just a bowl of just nuts or just fruit. I used salted peanuts to give this mix that hint of salt and balance but you can definitely use raw peanuts along with all of these other raw ingredients. I hope you like the mix!"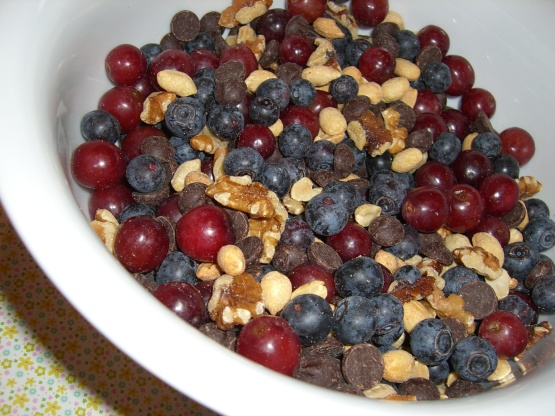 Resveratrol Crunch-N-Munch
2 recipe photos
Directions
Rinse your fruit and dry it completely on soft kitchen towels. (the fruit must be dry before mixing with the chocolate and nuts to keep them from getting soggy).
Place the blueberries and grapes into a mixing bowl or large ziploc bag.
Add the walnuts, peanuts, and dark chocolate and then gently toss around to coat everything in the salt from the peanuts.
Store in the fridge and enjoy a handful for dessert or a snack!
get the genius kitchen app.
Watch on your iPhone, iPad, Apple TV, Roku, or Fire TV.
Learn More