"I got this recipe from a friend about 30 years ago, and after the friend had also given me an abundance of rhubarb from her garden. This is a very easy jam to make. I love the added crushed pineapple, and maraschino cherries in this jam."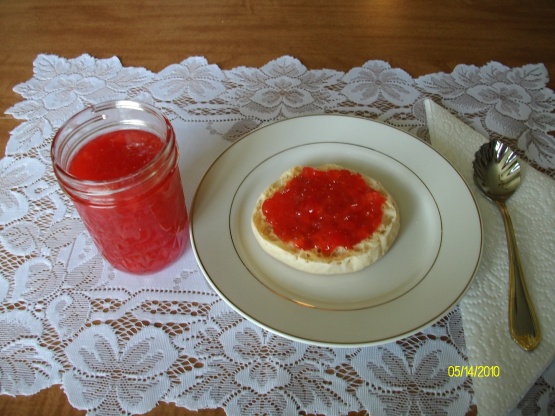 Rhubarb Jam With Fruit
5 recipe photos
Directions
In a large bowl, add the rhubarb and sugar; stir to coat evenly.
Cover the bowl, and place it in the refrigerator overnight.
The next morning, place the rhubarb mixture in a large kettle, and bring the mixture to a boil over medium heat.
Lower the heat just abit, and gently boil for 15 minutes (stirring constantly).
Add the (undrained) crushed pineapple, the chopped maraschino cherries; cook for an additional 5 minutes.
Turn off stove, then add the dry gelatin powder to the kettle; mix well.
Transfer the jam to the sterilized glass jars, and cover with the lids.
Cool the jam to room temperature, before storing it in the refrigerator or freezer.