"Brandy can be used in place of the whiskey, the steaks should be about 1-inch thickness. Plan ahead the steaks have to sit for 1 hour at room temperature. This blue cheese sauce is amazing! Try to use only rib-eye steaks for this."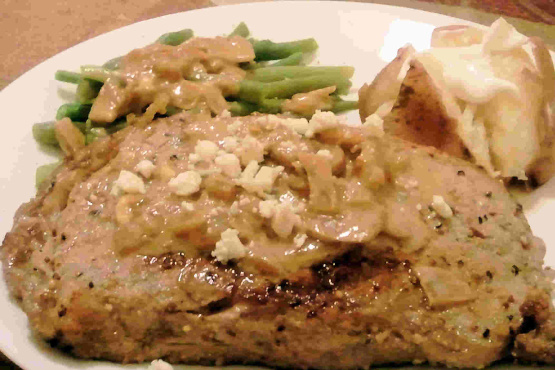 Rib-Eyes With Whiskey Blue Cheese Sauce and Mushrooms
1 recipe photo
Directions
Place the steaks in a shallow dish.
Rub the steaks well in oil on both sides, then season with salt and pepper.
Let stand at room temperature for 1 hour (no less!).
Melt butter in a heavy skillet over medium heat.
Add in onion slices and garlic; sauté for about 3-4 minutes or until softened.
Then add in sliced mushrooms and continue to cook until just tender (about 5 minutes).
In another skillet heat a couple tablespoons oil over medium heat.
Add in the steaks; fry to desired doneness (about 4-5 minutes per side for medium rare).
Transfer the steaks to a plate and tent loosely with foil to keep warm.
Add in the broth and whiskey or brandy to the same skillet that the steaks were fried; bring to a boil and scrape any browned bits from the bottom of the pan.
Add in the mushroom mixture; bring to a boil and simmer until the liquid is thick enough to coat the spoon lightly (about 5-6 minutes).
Add in 1 cup blue cheese; stir until the cheese melts (about 1 minute).
Season the sauce with salt and pepper.
Spoon the sauce over the steaks, then sprinkle with 1/4-1/3 cup crumbled blue cheese.