"This candy is crunchy and chewy and very sweet. It's one of my favorite treats at Christmas time. This recipe makes a large batch but it freezes very well. My grandma makes this in the microwave so I've included her microwave cooking instructions. I estimated the serving size to be about 1/4 cup."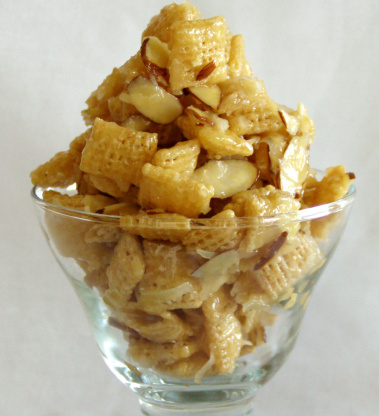 Rice Chex Candy
3 recipe photos
Directions
Combine Chex cereal, almonds and coconut in a very large mixing bowl. Set aside.
Combine butter, corn syrup and sugar in a medium saucepan.
Cook and stir over medium-high heat until mixture reaches 235°F (soft ball stage).
Remove from heat and stir in baking soda and vanilla; stir well.
Pour candy mixture over cereal mixture. Stir until well combined.
Spread on wax paper to cool.
Store cooled candy in an airtight container.
This candy freezes remarkably well!
It makes a pretty gift given in a jar or cellophane bag tied with a ribbon.
It's very sweet and highly addictive!
*Microwave instructions:.
Combine butter, corn syrup, and sugar in a microwave safe glass bowl. Microwave on high 5 minutes.
Stir.
Microwave 5-10 minutes longer until mixture reaches soft ball stage.
Add vanilla and baking soda; stir.
Pour over cereal mixture.