"A refreshing beverage with variations of delicious flavors. Enjoy."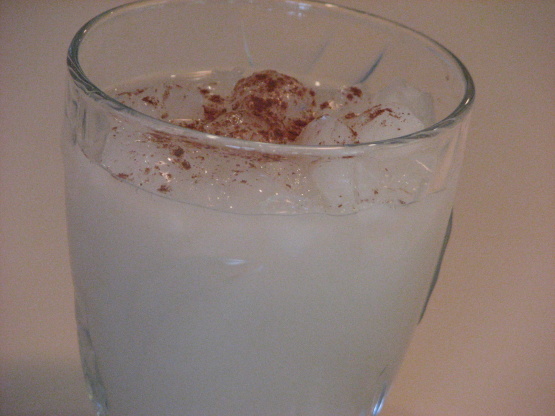 Rice Cooler Drink Mexican Style - Horchata
1 recipe photo
Directions
Place rice in a large bowl. Pour warm water over rice. Set aside an soak overnight.
Pour into blender jar; process until smooth. Strain mixture through a fine mesh sieve.
Return to blender, process again. Strain mixture into pitcher through a clean, dampened towel or cheese cloth. Rinse blender, return mixture to blender.
Add sugar and vanilla and process until combined. Refrigerate until chilled. Serve over crushed ice.
FOR FLAVOR VARIATIONS:
CONDENSED MILK: substitute a can of sweetened condensed milk for the sugar and blend with the rice. Serve with ground cinnamon on top.
CHOCOLATE - Add 2 ounces grated Mexican chocolate to rice. Continue as directed above.
STRAWBERRY - Prepare as directed above, adding 1 package (10 ounces) frozen strawberries with the sugar and vanilla. Continue as directed.
CINNAMON - Add 2 (4-inch) cinnamon sticks to rice. After soaking remove cinnamon sticks and discard. Continue as directed above.