"This is my favorite bread. To have enough time to rest dough makes bread very soft and tasty.This bread goes well with creamy soups and good for sandwiches. Bread machine goes well too."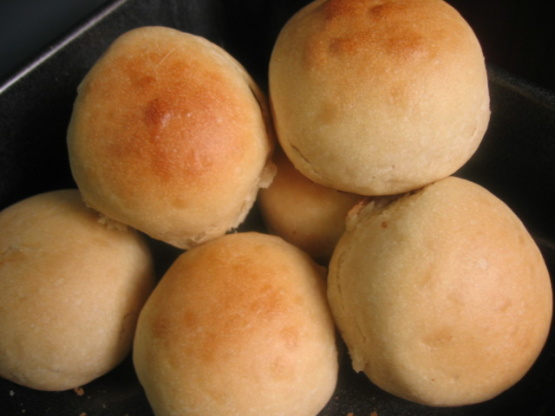 Rich Milk Rolls
2 recipe photos
Directions
Dissolve Dry Yeast in warm water.
Add flour, sugar, salt to food processor(use a bread blade) and pulse a few times.
Add yeast solution and covered with the flour.
Start food processor and run for 90 seconds.Within 30 seconds add milk with the same speed.
Stop machine and add butter and mix well by hand.
Start machine again and run for 40 seconds.
Make a big ball with dough, place in a bowl.Cover and let rise in a warm place(at 28C until doubled in size (about 40 to 50 minutes).
Divide dough into 8 pieces and roll into balls.
Covered and rest for 20 minutes.
Shape each balls into balls again, place on a baking sheet and let rise for 20 to 25 minutes at 38C or until doubled. Please keep moisture during rising.I spray water in a place when let dough rise.
Brush tops with milk and bake at 375 (or 180 to 200C) fot 13-16 minutes.