"I absolutely love risotto. So my recipes would not be complete with out at least one recipe for risotto. This is the easiest one i've ever made."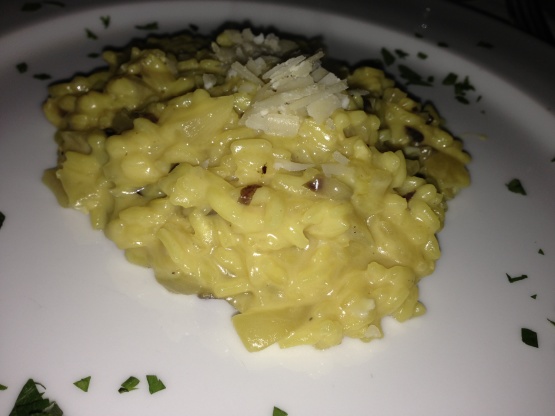 READY IN:

1hr

SERVES:

4-6

UNITS:

US
Directions
PREPARING THE RICE.
Peel and finely chop the onion.
Melt the butter in a 4-to-5-quart saucepan over medium heat, stirring regularly.
Add the onion and cook, continuing to stir, until it turns soft and translucent.
Turn the heat down if the onion starts to brown.
Meanwhile, pour the chicken broth into a separate saucepan, set over medium heat, and bring to a gentle simmer.
Adjust the heat as needed to maintain this simmer the whole time you are preparing the risotto.
Once the onion is soft, add the rice and cook over medium heat, stirring constantly, for about 3 minutes.
Adjust the heat as necessary-- if the rice is cooked at too high a heat, it will turn brown and take on an undesirable flavor.
ADDING THE LIQUID TO THE RICE.
Using a ladle, scoop up about 1/2 to 3/4 cup of broth.
Pour it in the pan with the rice, stirring constantly with a spoon.
After the first addition of broth, the rice mixture will look a bit soupy.
As the rice begins to cook, stir it constantly, making sure that you scrape along the bottom of the pan so that it does not stick.
You should see little bubbles popping up on the liquid from time to time.
If it bubbles more vigorously than this, turn the heat down to medium-low.
When most of the liquid is absorbed into the rice and the rice begins to look a bit dry, add another ladle of broth to the pan and stir constantly, as before.
DETERMINING WHEN THE RISOTTO IS COOKED.
Continue to add the broth in 1/2-to-3/4-cup batches and stir the rice until you have used most of the broth (this will probably take about 20 minutes).
It is now time to test whether the risotto is cooked.
Spoon up a grain of rice and bite into it-- it should be tender without being too mushy.
If it is still crunchy and tastes a bit starchy, you will need to continue adding liquid and cooking further.
If it looks as if you will run out of chicken broth and your rice is still not cooked, don't be alarmed.
Because of variations in individual stoves and cooking temperatures, you may need more liquid than called for in the recipe.
Simply heat up another cup or 2 of chicken broth.
If you run out of broth, use hot water.
When the rice is tender and the risotto has a creamy consistency, almost like thick oatmeal, it is done.
SERVING THE RISOTTO.
Add salt and pepper to the risotto, about 1/4 teaspoon at a time, until it seems well seasoned to you.
Stir.
Add the grated Parmesan cheese and stir well.
Serve the risotto immediately in warm bowls and have extra grated Parmesan on hand.
get the genius kitchen app.
Watch on your iPhone, iPad, Apple TV, Roku, or Fire TV.
Learn More