"From www.italyum.com. "This recipe belongs to the culinary tradition of the city of Milan. It's a very old recipe, probably more than 400 years old and the story goes that while an artist was preparing the dye to colour the window glass of the cathedral (Il Duomo di Milano), his apprentice, by accident, poured some saffron powder into the near by pan of rice. Since then, the recipe has been elaborated many times, until nowadays. When cooking the proper "risotto alla Milanese" you require the use of some beef bone marrow at an early stage in the cooking.""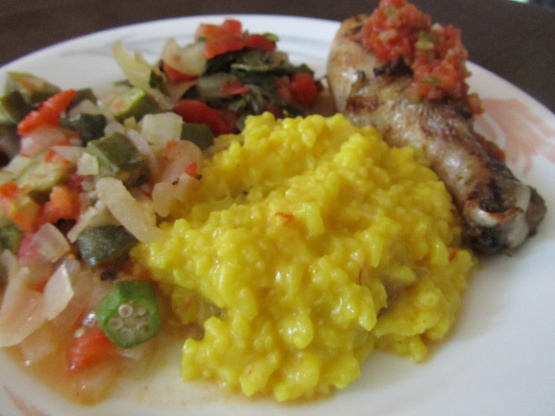 Risotto Alla Milanese
2 recipe photos
READY IN:

40mins

SERVES:

4

UNITS:

US
350

g carnaroli rice (alternatively Arborio rice (12- 14 oz)

50

g butter (2 oz, 1 knob of 30 g and 1 knob of 20 g)

40

g beef marrow (1 1/2 oz)

1⁄2 an onion (finely chopped)

100

ml white wine (3 1/2 fl oz)

1

liter of hot beef (1 3/4 pints, I have to say that you often need more than 1 litre so have some extra stock handy) or 1 liter chicken stock - 2 stock cubes (1 3/4 pints, I have to say that you often need more than 1 litre so have some extra stock handy)
1⁄4 g saffron (usually 1 sachet)

60

g grated parmesan cheese (2 1/2 oz)

salt for seasoning
Directions
Put 30 g of the butter in a large pan and melt it (keep the remaining butter for later).
Add the finely chopped onion.
Sweat over a medium heat for about 2 minutes.
Add the bone marrow and continue cooking for another 3 minutes, breaking it with the spoon while stirring.
Once the onion is soft, add the rice and and stir until the rice is completely coated with the fat.
You can see that the rice will start to become translucent, keep stirring and sweat the rice for a minute or two.
Then, add the white wine, keep stirring and let the wine evaporate (it will probably take a couple of minutes).
Now, add the stock and turn the heat to medium/low, the stock, which is kept simmering in order to stay hot, should be added at the rate of a couple of ladlefuls at a time and when this is absorbed, add more stock.
Carry on in this way for about 15 minutes, during this stage, do not leave the pan alone and stir regularly (gently).
After 15 minutes, you will probably need an extra 3 to 5 minutes to complete the final stage of cooking (this time depends on the type of rice you are using). From now on, taste the rice every minute until the rice is cooked "al dente" (this means that the rice is tender outside, but still slightly firm to the bite in the centre). At the same time, the tasting will tell you if you need to adjust seasoning with salt. Regular but gentle stirring is required for the last minutes in order to avoid the risotto sticking to the bottom of the pan.
In these last minutes, if the stock is completely absorbed, you can gradually add a bit more (say a half ladle at a time) because at this final stage you do not want the risotto becoming too watery.
Now, at about the 15th minute, put the saffron powder into a glass.
Add half a ladle of stock and dissolve the saffron stirring with a small spoon and then add the saffron into the pan.
Stir until all the rice is uniformly coloured (golden yellow). Continue cooking and adding stock as required.
When the rice is perfectly cooked "al dente", add the Parmesan cheese and stir for few seconds until the Parmesan has melted.
Then, put the cooker off, add all the remaining butter (cut into pieces) and stir until completely melted.
Cover the pan with a lid for about 1 minute and allow the risotto to rest before serving it.
Risotto should be served "all'onda" (like a wave). This means that when you serve it onto the plate, it should still flow a little.
Buon appetito!
get the genius kitchen app.
Watch on your iPhone, iPad, Apple TV, Roku, or Fire TV.
Learn More