"Serve with a cabbage slaw dressed with lime juice, oil, and toasted cumin seeds. Use your favorite green salsa on the tacos. The recipe comes from Sunset."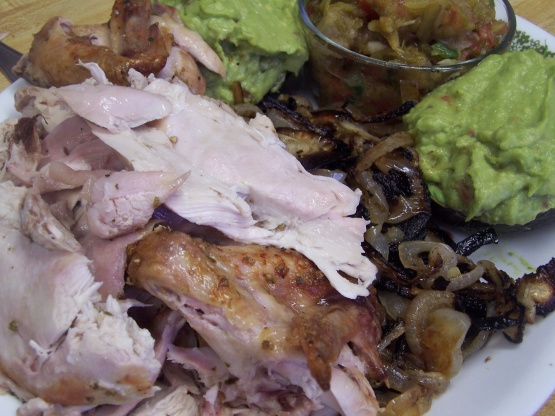 Roast Chicken and Onion Tacos
1 recipe photo
Directions
Peel onions and cut lengthwise into 1/2 inch-thick wedges.
Place in a 12-by 17-inch roasting pan with 2-inch sides.
In a small bowl, mix oregano, 1 teaspoon salt and pepper.
Add half the orengano mixture and 1 tablespoon olive oil to onions; mix well.
Set one or two wire racks (overlap,if necessary) over onions, extending beyond pan sides so racks are not resting directly on onions.
Remove giblets from chicken: discard or reserve for other uses.
With poultry scissers, cut along one side of backbone of chicken.
Pull bird open and lay,skin side up, on a flat surface; push down to crack bones slightly so bird lies reasonably flat.
Pull off and discard lumps of fat.
Rinse bird well, pat dry.
Rub remaining 1 tablespoon oil and oregano mixture over bird.
Set skin side up, on racks over onions.
Roast in a 425 degree oven until thermometer reaches 170 degrees when inserted through the thickest part of chicken breast to bone and 180 degrees when inserted through thickest part of thigh at joint, 50 to 60 minutes.
Set chichen on platter or cutting board and let rest 5 to 10 minutes.
Remove racks from pan.
if onions are not browned, stir and continue roasting until browned, 5 to 10 minutes longer.
Scrap browned bits off pan bottom and stir into onions; spoon onoins into bowl.
Wrap tortillas in plastic wrap and heat in microwave oven until just hot and steamy, about 45 seconds.
Serve chicken with onions, tortillas, and salsa.
To eat, cut chicken off bones in chunks or slices and let guest wrap chicken in tortillas, with onions, salsa and salt to taste.