"Have you ever considered roasting your chicken vertically? Your results will be tender and juicy. You can buy vertical roasting stands in a store, or you can use your angel food cake pan insert! If you decided to use this method, after roasting, make sure you clean the insert completely of all traces of fat or your next cake may not rise well. This recipe comes from Cuisine at Home."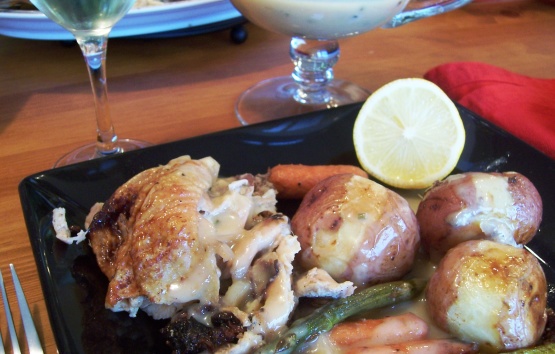 Roasted Chicken With Spring Vegetables and Lemon-Honey Sauce
3 recipe photos
For the Chicken and Vegetables

1

(3 lb) whole chickens

12

medium red potatoes, trimmed around center

12

asparagus spears, trimmed, halved crosswise

3

carrots, cut into sticks
paprika, to taste
salt, to taste
pepper, to taste

For the Basting Liquid

1⁄4 cup fresh lemon juice

1

tablespoon honey

For the Sauce

2

tablespoons unsalted butter, divided
1⁄4 cup shallot, sliced

1

tablespoon fresh ginger, minced
1 1⁄4 cups chicken broth
1⁄4 cup dry white wine

3

tablespoons fresh lemon juice

3

tablespoons honey
1⁄4 cup heavy cream

1

teaspoon all-purpose flour

1

lemon, zest of, minced
fresh chives, minced
salt, to taste
cayenne, to taste
Directions
Preheat oven to 425°F with rack in lower third of oven so vertical chicken will not touch top of oven.
Place removable insert from angel food cake pan (or use commercial roasting stand) in a 10" shallow pan (like a deep dish pie plate).
Prepare chicken, trimming off all fat.
Rub the chicken with oil, season with paprika, salt and pepper inside and out.
Prop chicken, with legs down, on the tube of the cake pan insert, or vertical roaster.
Toss prepared vegetables with oil, salt and pepper; keeping asparagus separate from potatoes and carrots.
Arrange potatoes and carrots around the base of the chicken, then roast for 30 minutes.
For the basting liquid, combine honey and lemon juice.
After the chicken has roasted 30 minutes, brush it with some of the mixture.
Add asparagus to pan, then roast 15 more minutes.
Baste a second time, then roast chicken until it reached an internal temperature of 170 degrees in the thigh, about 15 more minutes.
Allow chicken to rest 15 minutes before carving.
While chicken is resting, prepare the sauce.
In a saucepan over medium heat, sauté shallots and ginger in 1 TBS unsalted butter, cooking till soft.
Add broth, wine, lemon juice, and honey.
Simmer 15 minutes, or until reduced by half.
Strain into a clean saucepan.
Whisk in cream; bring to a boil.
Mash 1 TBS unsalted butter and flour together.
Add butter and flour mixture to finish the sauce and cook until slightly thickened.
Stir in lemon zest, chives, and seasoning just before serving.
Serve sauce over chicken and veggies.