"This recipe was featured in an email today from the www.lifescript.com website."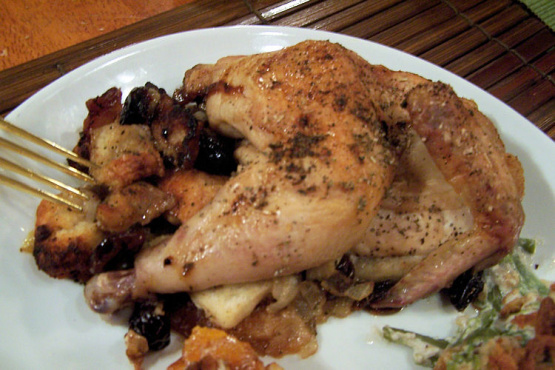 Roasted Cornish Hens With Dried Cherry Stuffing
1 recipe photo
Directions
Preheat the oven to 400°F
In a large skillet, heat the olive oil over medium heat. Add the onion and celery and cook until the vegetables are tender, about 5 minutes. Add the dried cherries, sage and broth and cook for 2 more minutes. Stir in the cubed bread, salt and pepper and set aside.
Season the Cornish hen halves with salt and pepper.
Spray a baking sheet with nonstick cooking spray. Form the stuffing into 4 mounds on the baking sheet. Place 1/2 of a Cornish hen on top of each mound of stuffing. Roast the hens for 45 minutes or until thoroughly cooked.
When the hens are finished, transfer them to a serving platter and let rest for about 5 minutes before serving.