"From Cuisine Magazine, I forgot which issue but I memorized this recipe. I always make enough marinade for two, and then throw an extra one on the grill or in the oven if more people show up."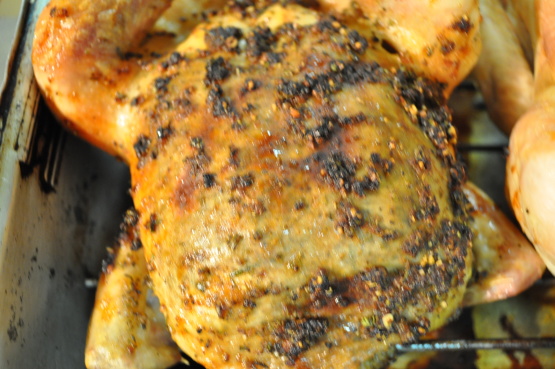 Robin Hood Chicken
3 recipe photos
Directions
preheat oven to 425 degrees.
wash and pat dry chickens
run your hands under the skin to separate from the meat
Mix together the rest of the ingredients in a large bowl.
Rub the marinade underneath the skin of the chicken taking care not to tear the skin.
use most of the marinade like this, and then rub the remainder on the outside.
cut a slit on either side of the vent and cross the chicken legs into the slits.
put the chicken in the oven feet first.
cook for 60 minutes.
take chicken out o the oven and let rest for 10 minutes.