"My family loves this steak. It is festive and delicious. This recipe came out of a recipe book put together from Home Economic Teachers all over the U.S. called "Foreign Foods"."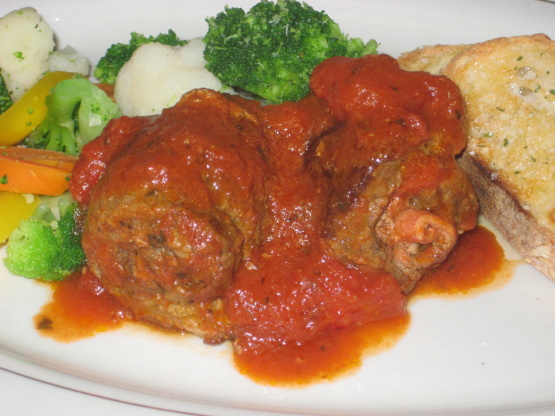 Rolled French Steak
4 recipe photos
1

breakfast steak (cut into pieces about 2-inchx6-inch) or 1 any thin steak (cut into pieces about 2-inchx6-inch)

1⁄2 slice bacon
1⁄2 teaspoon parsley

1

teaspoon parmesan cheese
1⁄4 teaspoon garlic, chopped

toothpick

2

tablespoons oil (for frying)

tomato sauce to cover roll
Directions
Lay all thin steaks out flat on cookie sheets.
Put 1/2 slice of bacon on each steak.
Sprinkle parsley over each steak.
Sprinkle parmesan cheese over each steak.
Sprinkle chopped garlic over each steak.
Roll steak up and fasten with toothpick so steak does not unroll.
Brown outside of steak rolls in oil in 4 to 6 quart pan.
After all steak rolls are browned, place back in pan.
Cover with tomato sauce. (I usually cover the bottom of the pan with steak so I would use approximately two to three 8 ounce cans tomato sauce and a little water to make sure meat is completely covered.).
Simmer for approximately 1-1/2 to 2 hours.
Sauce will thicken quite a bit. Make sure steak doesn't start to stick to bottom of pan.