"I love the ease of the bread maker but the consistency of the bread is too soft and fluffy for my taste. So, I experimented with different recipes, which I could start in the bread machine and then bake the old fashioned way. This is the version that worked best, the bread has great texture, it has a wonderful crust and the inside has a good bite but is not too dense. I used a french loaf pan, if you don't have one, form 2 round boule style loafs and bake them on an oiled cookie sheet or on a pizza stone."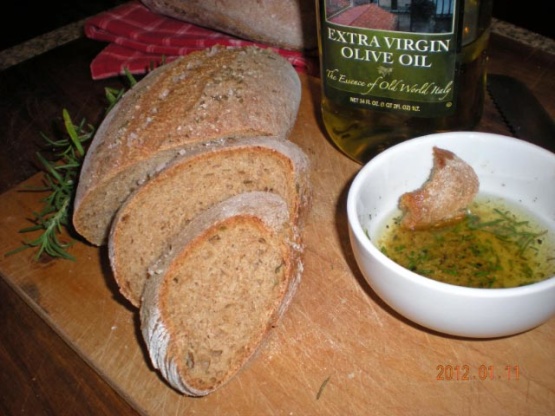 Rosemary Bread - Started in the Bread Maker - Baked in the Oven
3 recipe photos
Directions
Set bread machine on "Dough"cycle, depending on machine, choose either small or medium loaf size.
Add all ingredients except 1 tsp rosemary.
Make sure the water is only luke warm otherwise it will kill the yeast.
Start the bread machine and let it run until the dough cycle is completed and the machine turns itself off.
Remove dough to a floured board, cut into 2 portions and shape 2 loafs.
Spray pan or cookie sheet with butter or oil spray and put the dough loafs on.
If using the french baguette pan, form oblong loafs, otherwise make round boule style loafs.
with a sharp knife, cut one long slit in the oblong loafs or a tic-tac-toe pattern in the boule style loafs.
Sprinkle rosemary and coarse salt, if desired, on top and press lightly on, let rest for another 10 - 15 minutes.
Preheat oven to 400°F or 200°C.
Put a pan with hot water on the bottom when you turn the oven on.
Bake in the lower half of the oven, ca. 50 - 60 minutes or until golden brown.
the bread should sound hollow on the bottom when tapped.
Remove from oven and let cool.
Enjoy!